September 26, 2019
For Immediate Release
[ German ]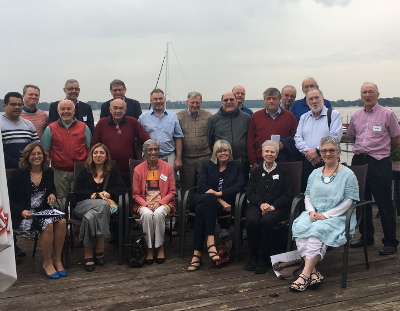 International Catholic Reform Network (ICRN) supports the ongoing work in parishes that are calling women and men to prepare them to preside over the Eucharist. This includes being responsible for the pastoral care and sacramental life of their parish community as was practiced in the early Church before the institution of the ordained priesthood.
ICRN calls on the Polish Bishops to comply with Church teaching regarding LGBT people that calls all to respect the intrinsic dignity of each person in word, action, and law. Attached below is our Warsaw Statement on LGBT.
ICRN voted unanimously to support the charter on the Fundamental Rights and Responsibilities of all Catholics worldwide which obligates the entire church to respect the primacy of conscience; the equality of all Catholics in the church; freedom of expression, including the freedom to dissent; the right and responsibility to participate in a Eucharistic community and to receive responsible pastoral care; genuine participation in decision making, including the selection of their leaders; due and just process when accusations are made; protection of children, and others.
All Nice things were said about the responsibility to victims – listen, take on the journey and responsibility to respond.
We tried to provide listening to victims, heard the cry of young, have guidelines to stimulate discussions which include financial responsibility, relationship between Bishops and Superiors of Religious Congregations, ensuring health community life of priests, etc.
Pope gave a short speech he emphasized listening, Spirit of solidarity and what he expects to happen, a conversion and purification. We need to obtain concrete results. He has prepared a handout of 21 points which will be made into a booklet. Collaboration with all people of goodwill. He will raise marriage age (and change Canon Law), from 14 to 16 (is this progress??? Which century are we living in??)
Read more: Sex Abuse Summit - Press Briefing 21 February 2019
Message from Colm Holmes, Chair of We Are Church International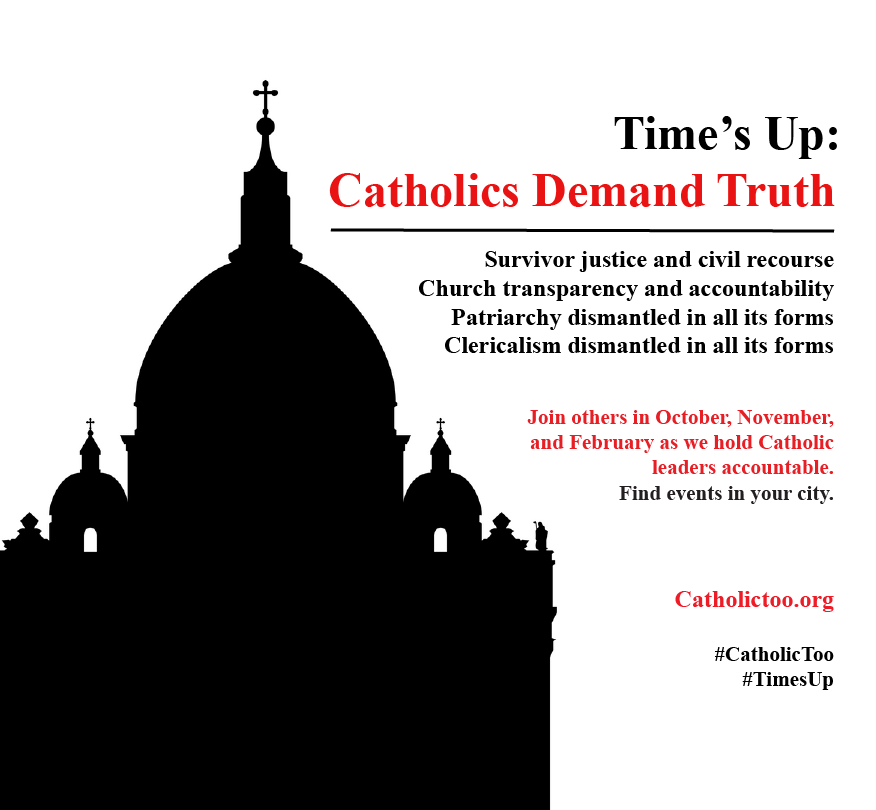 This is certainly a time of turmoil in our hierarchical church with cardinals and bishops openly attacking Pope Francis and each other.
I am writing to invite you to consider taking part in a worldwide campaign leading up to the meeting of Pope Francis and the Heads of Bishops Conferences in Rome in February 2019.
Your WAC Co-ordinating team has agreed that WAC International join US Reform Groups campaign "Time's Up: Catholics Demand Truth"
A large number of U.S. Reform Groups (including DignityUSA; Call To Action; WOC; FutureChurch) launched this campaign in September 2018. They are organizing prayer vigils on the first Sunday of November, December, January and February – leading up to the February 2019 meeting in Rome of all the Heads of Bishop's Conferences. The call for truth covers 4 main areas (see Appendix 1 below for full details):
i. Survivor Justice and Civil Recourse
ii. Church Transparency and Accountability
iii. Patriarchy Dismantled in all its forms
iv. Clericalism Dismantled in all its forms
You will find more details at this website http://catholictoo.org/.
From: Francophone Baptized Catholics Conference, 76 rue de la Verrerie, Paris 75004
31st August 2018,
Dear Very Holy Father,
Following the massive disclosures of a large number of scandals of the Church concerning the sexual abuse of minors by priests, you have addressed a letter to God's People, in which you condemn clericalism as one of the causes of this evil and you have appealed to the baptized persons to help you resolve the problem. We want to respond to your appeal.
Read more: Letter to Pope Francis - Demand for a Council of God's People
Indian Christian Women's Movement 1st National Convention 'Women Take Wing'
PRESS RELEASE 13th August, 2018
About 100 women including nuns and ordained women from churches all over India strongly condemned the weak institutional response of the church to gender violence faced by women in the Church.
The women were attending the first National Convention of the Indian Christian Women's Movement (ICWM) at Jnanadeepa Vidyapeeth, Pune, on the theme 'Women take Wing'.
In her keynote address, Prof. Vibhuti Patel, Advanced Center for Women's Studies, Tata Institute of Social Sciences, Mumbai, traced the history of Indian women's movement and the importance and relevance of ICWM in this larger context.
The delegates, cutting across age, region and Christian denomination expssed dissatisfaction at the lack of voice, role and decision making for women in Church structures, and declared their determination to struggle for justice equality, dignity and rights for women, children, Dalits, Tribals, Transgender people and LGBQIA.
They resolved to work together to enhance women's participation, representation, decision making in the Church and related structures.
In the new normal of sexual violence and polarization in the country, and the abuse of women's and children's bodies to settle political and communal scores, the ICWM resolved to partner and work in solidarity with civil society groups and movements in the ongoing battle for justice for survivors and their families.
Noella D'Souza
Convenor, ICWM
Virginia Saldanha
Secretary, ICWM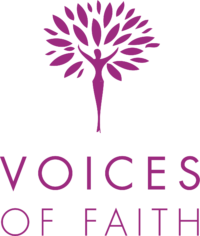 Recent statements by Pope Francis and top Vatican officials support the need to bring more lay women to top leadership positions at the Roman Curia. However, Voices of Faith is concerned about the apparent difficulties and lack of transparency in regard to how those women are chosen and the process undertaken to appoint them. In an extensively quoted interview with Reuters on June 17th 2018, Pope Francis is reported saying, "I don't have any problem naming a woman as the head of a dicastery." At the same time, he talks about difficulties in finding the right candidates and convincing curial officials to accept women for leadership positions. The Prefect of the Dicastery of Laity, Family and Life, Cardinal Kevin Farrell, stated that the Vatican is "overloaded with clerics" and that "administrative functions within the church can be done by anybody" including laity.
Read more: Transparent policies and accountability needed if the Vatican is serious about bringing more women...