This website is undergoing refurbishment.
We apologise for any inconvenience during your visit.
Latest News
Details

Category: Latest News
Hits: 1913
A reflection by Luis Gutierez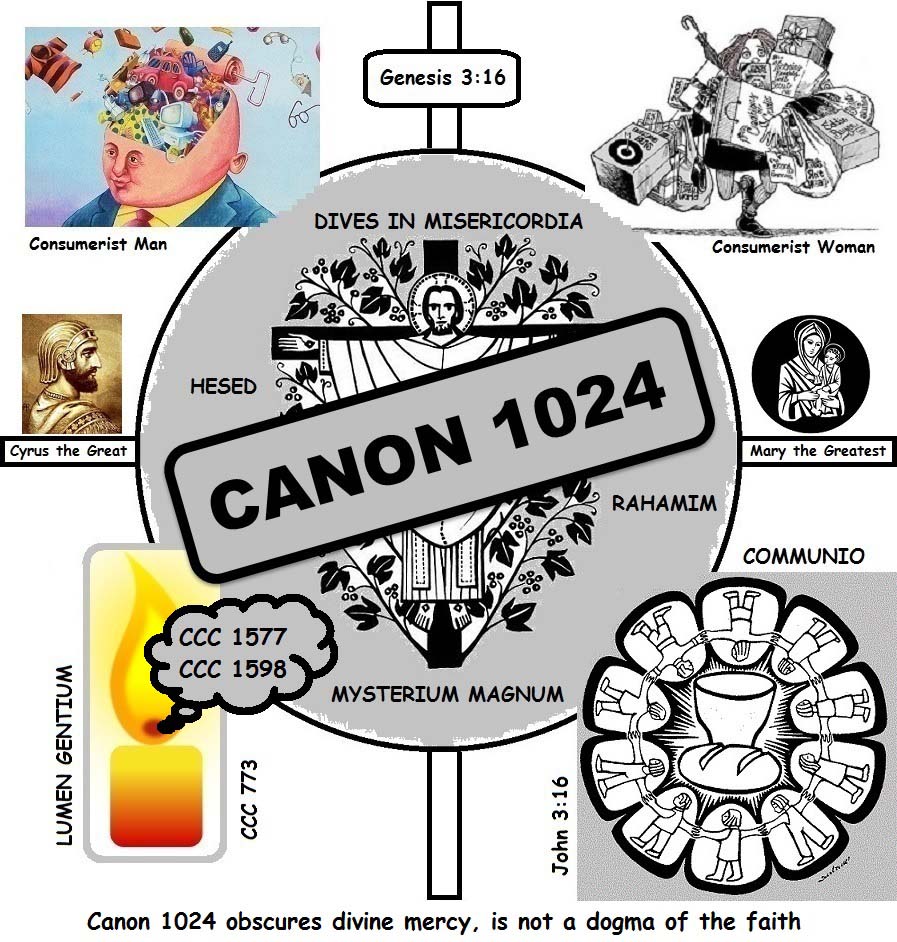 El canon 1024 oscurece la misericordia divina, no es un dogma de fe
Canone 1024 oscura misericordia divina, non è un dogma della fede
Canon 1024 obscures divine mercy, is not a dogma of the faith
Canon 1024 obscurece a misericórdia divina, não é um dogma da fé
Canon 1024 obscurcit la miséricorde divine, ne est pas un dogme de la foi
Canon 1024 zaciemnia boskie milosierdzie, nie jest dogmatem wiary

Regina apostolorum, ora pro nobis

Pax Christi,
Luis
Details

Category: Latest News
Hits: 2983
Pope Francis said the theologian is first of all a believer who hears the word of God and who humbly listens to what the Holy Spirit says to the churches. His remarks came in an address on Friday to members of the International Theological Commission. The Pope noted that the Commission's mission is to study doctrinal problems of great importance, especially those which present new points of view. In his speech, the Pope said he wanted to draw particular attention to the importance of listening. He also noted the significantly greater presence of women on the Commission.
Details

Category: Latest News
Hits: 2649
Noi Siamo Chiesa says "The speeches of Pope Francis in Strasbourg have an importance that the media have not grasped"  [Italian]
Details

Category: Latest News
Hits: 3041
We Are Church groups throughout the world thank Pope Francis for his address, which they consider to be extremely important.
Here, courtesy of Zenit.org, is a translation of the Pope's address Tuesday to participants in the World Meeting of Popular Movements, organized and promoted by the Pontifical Council for Justice and Peace, in collaboration with the Pontifical Academy of Social Sciences and with the Directors of several Movements.
He met with the group in the Old Hall of the Synod.
[Spanish (Original)]  [Italian]  [German]  [Portuguese]  [French]
Again, good morning.
I am happy to be among you; moreover, I will share a confidence with you: this is the first time I have come down here; I had never come here before. As I was saying, I am very happy and I give you a warm welcome.
Thank you for accepting the invitation to discuss so many grave social problems that afflict the world today – you who suffer inequality and exclusion in your own flesh. Thank you to Cardinal Turkson for his hospitality. Thank you, Eminence, for your work and your words.
This meeting of Popular Movements is a sign, it is a great sign: you have come to put in the presence of God, of the Church, of peoples, a reality that is often silenced. The poor not only suffer injustice but they also struggle against it!
Read more: Pope's address to participants in the World Meeting of Popular Movements (29 October 2014)
Details

Category: Latest News
Hits: 2832
We thank Vatican News for this information
The World Meeting of Popular Movements has issued a statement at the beginning of their three day conference in Rome, which begins on Monday.
The culture of encounter at the service of poor people and poor nations
As long as the problems of the poor are not radically resolved by rejecting the absolute autonomy of markets and financial speculation and by attacking the structural causes of inequality, no solution will be found for the world's problems or, for that matter, to any problems. Inequality (inequidad) is the root of social ills.1
The thinking of Pope Francis, and how he has constantly accompanied the excluded in their struggles and their efforts to organize, have inspired and motivated us to hold this World Meeting of Popular Movements. We wish to bring to God, to the Church and to the world the voice of the voiceless. Not so that they raise their voice no more, but because they are silenced by those who hold economic power. We wish to practice the culture of encounter in the service of poor persons, of poor peoples and of this poor Church for the poor which, together with the Holy Father, we all long for. We want to listen to one other, to judge and to act on the basis of the lived experience of those sectors most seriously assaulted in their dignity by social injustice, by an economy of exclusion and by an idolatrous system of money. Together we want to discuss the structural causes of so much inequality (inequidad) which robs us of work (labor), housing (domus) and land (terra), which generates violence and destroys nature. We also want to face the challenge Francis himself sets puts to us with courage and intelligence: to seek radical proposals to resolve the problems of the poor.
Read more: World Meeting of Popular Movements holds encounter in Rome
Details

Category: Latest News
Hits: 2755
From Women's Ordination Conference (USA)
On Tuesday, Cardinal Gerhard Müller, head of the Vatican's Congregation for the Doctrine of the Faith told L'Osservatore Romano newspaper"above all we have to clarify that we are not misogynists, we don't want to gobble up a woman a day!"
The Vatican is not misogynistic???
We beg to differ.  And we have proof.
Introducing our newest video project: Vatican: It's A Man's World. Throughout this video you will hear just a small sampling of misogynistic quotes from the hierarchy. Please watch, share, and help us raise awareness about sexism in the Roman Catholic Church.
 What you have just heard are quotes from: 

Pope Francis, July 20, 2013
Pope Francis, May 12, 2014
Canon Law 1024
Pope Francis, Evangelii Gaudium 2013
Signed by Pope Benedict XVI, Normae de gravioribus delictis 2010
Pope Francis, La Stampa December 14, 2013
Pope Francis, Big Open Heart to God September 30, 2013
Congregation of the Doctrine of the Faith, May 29, 2008
Pope Francis, On Heaven and Earth 2010

"It's A Man's Man's Man's World" Performed by James Brown
Courtesy of Polydor Records under license from Universal Music Enterprises

Women's Ordination Conference
www.womensordination.org
www.facebook.com/OrdainWomen
www.twitter.com/OrdainWomen