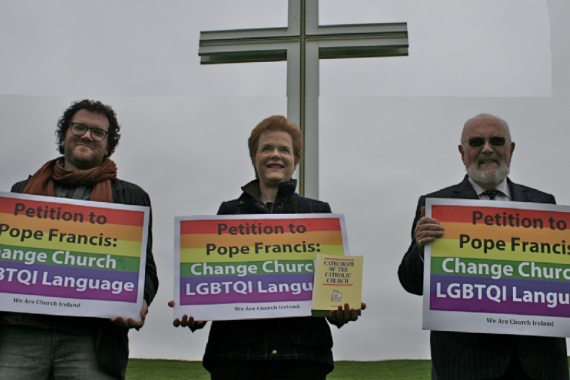 Today, Thursday 7th June We Are Church Ireland is launching a petition calling on Pope Francis to change Vatican theological language that is gravely insulting to LGBTQI people.
Words like 'objectively disordered ' and ' intrinsically evil' to describe any human being is wrong but for an institution like the Catholic Church to teach that these words are an expression of the mind of God to describe her image in LGBTQI persons is not alone scandalous but blasphemous.
The petition is being launched by Ursula Halligan of WAC Ireland, Senator David Norris and Pádraig Ó Tuama of the Corrymeela Community.
Find the petition on Change.org at:
https://www.change.org/p/info-dublindiocese-ie-pope-francis-change-church-lgbtqi-language?recruiter=16658031&utm_source=share_petition&utm_medium=copylink&utm_campaign=share_petition
'We Are Church Ireland encourages every Catholic who continues to be enraged by this Vatican Un-Christian language to sign the petition demanding the withdrawal of this offensive language to describe our LGBTQI sisters and brothers' stated Brendan Butler.
Brendan Butler, We are Church spokesperson.
Mobile 086 4054984
7 June 2018
To all Catholic Women,
Catholic Women Speak and Voices of Faith have collaborated to write an open letter to Pope Francis appealing for greater participation of and dialogue with women in the worldwide Church. They have asked for our support of this effort to open a meaningful dialogue with women in the church so that women can have a more "decisive" presence in the universal Church. Please read the letter and, if you agree, you are invited to sign the letter and, in turn, circulate it to your networks.

​As you will see, the letter is supportive of Pope Francis and seeks to open up a dialogue. The creators of this website believe it is important to express our concerns about the language used to describe women, and this letter strives to do so gently - not to provoke a confrontation

Here is the link to the website with the letter and the signature form: We are grateful in advance for your support.
>
It is worth reflecting on Bishop Michael Curry's address at the royal wedding of the Duke and Duchess of Sussex on 19 May 2018. Bishop Michael is the first black presiding bishop of the Episcopal Church in the USA.
"And now in the name of our loving, liberating and life-giving God, Father, Son and Holy Spirit. Amen.
From the Song of Solomon, in the Bible: Set me as a seal upon your heart, as a seal upon your arm; for love is strong as death, passion fierce as the grave. Its flashes are flashes of fire, a raging flame. Many waters cannot quench love, neither can floods drown it.
The late Dr Martin Luther King Jr once said, and I quote: 'We must discover the power of love, the redemptive power of love. And when we do that, we will make of this old world a new world, for love is the only way.'
There's power in love. Don't underestimate it. Don't even over-sentimentalise it. There's power, power in love.
If you don't believe me, think about a time when you first fell in love. The whole world seemed to centre around you and your beloved. Oh there's power, power in love. Not just in its romantic forms, but any form, any shape of love. There's a certain sense in which when you are loved, and you know it, when someone cares for you, and you know it, when you love and you show it - it actually feels right. There is something right about it. And there's a reason for it. The reason has to do with the source. We were made by a power of love, and our lives were meant - and are meant - to be lived in that love. That's why we are here. Ultimately, the source of love is God himself: the source of all of our lives. There's an old medieval poem that says: 'Where true love is found, God himself is there'. The New Testament says it this way: 'Beloved, let us love one another, because love is of God, and those who love are born of God and know God. Those who do not love do not know God.' Why? 'For God is love.'
There's power in love.
There's power in love to help and heal when nothing else can.
There's power in love to lift up and liberate when nothing else will.
There's power in love to show us the way to live.
Set me as a seal on your heart... a seal on your arm, for love is as strong as death.
But love is not only about a young couple. Now the power of love is demonstrated by the fact that we're all here. Two young people fell in love, and we all showed up. But it's not just for and about a young couple, who we rejoice with. It's more than that.
Jesus of Nazareth on one occasion was asked by a lawyer to sum up the essence of the teachings of Moses, and he went back and he reached back into the Hebrew scriptures, to Deuteronomy and Leviticus, and Jesus said: 'You shall love the Lord your God with all your heart, all your soul, all your mind and all your strength. This is the first and great commandment. And the second is like it: Love your neighbour as yourself.'
And then in Matthew's version, he added, he said: 'On these two, love of God and love of neighbour, hang all the law, all the prophets, everything that Moses wrote, everything in the holy prophets, everything in the scriptures, everything that God has been trying to tell the world... love God, love your neighbours, and while you're at it, love yourself.' Someone once said that Jesus began the most revolutionary movement in human history.
A movement grounded in the unconditional love of God for the world - and a movement mandating people to live that love, and in so doing to change not only their lives but the very life of the world itself. I'm talking about power. Real power. Power to change the world.
If you don't believe me, well, there were some old slaves in America's Antebellum South who explained the dynamic power of love and why it has the power to transform. They explained it this way. They sang a spiritual, even in the midst of their captivity. It's one that says 'There is a balm in Gilead...' a healing balm, something that can make things right. 'There is a balm in Gilead to make the wounded whole, there is a balm in Gilead to heal the sin-sick soul.' And one of the stanzas actually explains why. They said: 'If you cannot preach like Peter, and you cannot pray like Paul, you just tell the love of Jesus, how he died to save us all.' Oh, that's the balm in Gilead! This way of love, it is the way of life. They got it. He died to save us all.
He didn't die for anything he could get out of it. Jesus did not get an honorary doctorate for dying. He didn't... he wasn't getting anything out of it. He gave up his life, he sacrificed his life, for the good of others, for the good of the other, for the wellbeing of the world... for us. That's what love is. Love is not selfish and self-centred. Love can be sacrificial, and in so doing, becomes redemptive. And that way of unselfish, sacrificial, redemptive love changes lives, and it can change this world. If you don't believe me, just stop and imagine.
Think and imagine a world where love is the way.
Imagine our homes and families where love is the way.
Imagine neighbourhoods and communities where love is the way.
Imagine governments and nations where love is the way.
Imagine business and commerce where this love is the way.
Imagine this tired old world where love is the way.
When love is the way - unselfish, sacrificial, redemptive.
When love is the way, then no child will go to bed hungry in this world ever again.
When love is the way, we will let justice roll down like a mighty stream and righteousness like an ever-flowing brook.
When love is the way, poverty will become history. When love is the way, the earth will be a sanctuary.
When love is the way, we will lay down our swords and shields, down by the riverside, to study war no more.
When love is the way, there's plenty good room - plenty good room - for all of God's children.
Because when love is the way, we actually treat each other, well... like we are actually family.
When love is the way, we know that God is the source of us all, and we are brothers and sisters, children of God.
My brothers and sisters, that's a new heaven, a new earth, a new world, a new human family.
And let me tell you something, old Solomon was right in the Old Testament: that's fire. Pierre Teilhard de Chardin - and with this I will sit down, we gotta get you all married - French Jesuit Pierre Teilhard de Chardin was arguably one of the great minds, great spirits of the 20th century. Jesuit, Roman Catholic priest, scientist, a scholar, a mystic. In some of his writings, he said, from his scientific background as well as his theological one, in some of his writings he said - as others have - that the discovery, or invention, or harnessing of fire was one of the great scientific and technological discoveries in all of human history.
Fire to a great extent made human civilisation possible.
Fire made it possible to cook food and to provide sanitary ways of eating which reduced the spread of disease in its time.
Fire made it possible to heat warm environments and thereby made human migration around the world a possibility, even into colder climates.
Fire made it possible - there was no Bronze Age without fire, no Iron Age without fire, no Industrial Revolution without fire.
The advances of fire and technology are greatly dependent on the human ability and capacity to take fire and use it for human good. Anybody get here in a car today? An automobile? Nod your heads if you did - I know there were some carriages. But those of us who came in cars, fire - the controlled, harnessed fire - made that possible. I know that the Bible says, and I believe it, that Jesus walked on the water. But I have to tell you, I did not walk across the Atlantic Ocean to get here. Controlled fire in that plane got me here.
Fire makes it possible for us to text and tweet and email and Instagram and Facebook and socially be dysfunctional with each other.
Fire makes all of that possible, and de Chardin said fire was one of the greatest discoveries in all of human history. And he then went on to say that if humanity ever harnesses the energy of fire again, if humanity ever captures the energy of love - it will be the second time in history that we have discovered fire.
Dr King was right: we must discover love - the redemptive power of love. And when we do that, we will make of this old world, a new world.
My brothers, my sisters, God love you, God bless you, and may God hold us all in those almighty hands of love."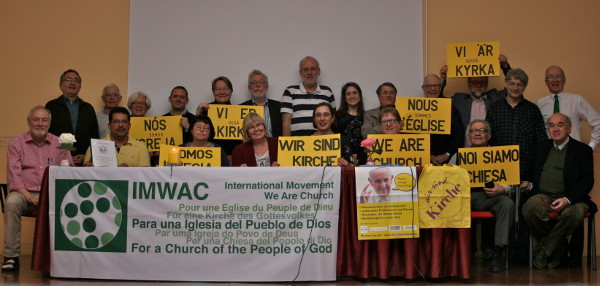 Representatives from countries around the world.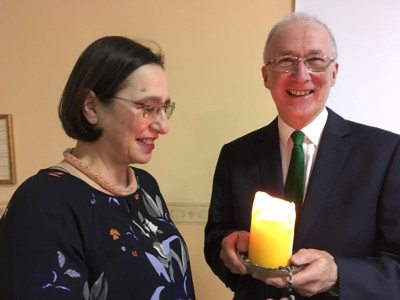 Pictured, Sigrid Grabmeier, We Are Church (Germany) hands the Chair of the Council to Colm Holmes, We Are Church (Ireland).
A personal reflection from Colm Holmes
25 delegates from 12 countries attended meetings in Rome where much was discussed and ideas shared.
For me there were two highlights:
Our Prayer Vigil close to St Peter's at 10pm on St Patrick's Day
Our shared Eucharist
Those were two very special occasions where we prayed and shared at a deeper level with the Holy Spirit very present.
On the Friday we had a Joint meeting with the European Network Church on the Move (EN-RE). Martha Heizer shared her experiences from the AYA/ATP meeting in Indonesia where young leaders from 10 Asian countries discussed how they deal with life and death issues. Edson Silva presented an overview on Liberation Theology which led right up to the assassination of Marielle Franco, a young woman Council Member in Rio on 14 March 2018. We hope Edson's paper will be translated into English.
The Joint meeting with EN-RE produced suggestions for 5 possible Joint Projects.
The WAC-International meetings included:
Country Reports
We have 21 members in 19 countries (2 members each in both France and Brazil)
500th anniversary of the Reformation witnesses outside and inside churches in 17 countries and 6 continents and using social media to share over 500 photos
Red scarf Pentecost celebration
18 Press Releases issued
Next WAC-International meeting will again be held in Rome at the end of March 2020.
We linked up online with Ashik Naz Khokhar in Pakistan
The election of our new Coordinating Team:
§ Chair Colm Holmes (Ireland)
§ Vice Chair Martha Heizer (Austria)
§ Communications Valerie Stroud (Great Britain)
- - Assistant Ashik Naz Khokhar (Pakistan)
§ Media coordinator Marianne Duddy Burke (U.S.A.)
§ Treasurer ? [Interim: Colm Holmes Ireland]
§ Membership In-Reach Martha Heizer (Austria)
- - Assistant Erik Westerberg (Sweden)
§ Outreach Jean-Pierre Schmitz (France)
- - Assistant Ed Schreurs (Netherlands)
Following up from the Council 50 meeting in Rome there is a large team working on the GCN Aparacida meeting in Brazil 15-18 November 2018 which has three titles:
2nd Global Forum of the People of God from Medellin 1968 to Aparacida 2018
"EMPOWERING THE PEOPLE IN THE CHURCH AND IN SOCIETY"
The Gospel challenged by globalization: justice, peace, democracy, environment, spirituality
The keynote speaker will be Leonardo Boff with many other Brazilian and international speakers.
My sincere thanks to all our members who give freely of their time, energy and expertise to help to reform our Church into a more Christ like body.
Vatican News:Watch the official trailer for Wim Wenders' new film, Pope Francis - A Man of His Word. "Pope Francis - A Man of His Word," is intended to be a personal journey with Pope Francis, rather than a biographical documentary about him. The pope's ideas and his message are central to this documentary, which sets out to present his work of reform and his answers to today's global questions. From his deep concern for the poor and wealth inequality, to his involvement in environmental issues and social justice, Pope Francis engages the audience face-to-face and calls for peace.
>The film goes on general release on 18 May. It is produced by Wim Wenders with Samantha Gandolfi Branca, Alessandro Lo Monaco (The World's Smallest Army) Andrea Gambetta, and David Rosier (The Salt of the Earth). The film is a production of Celestes Images, Vatican media. Solares Fondazione della Arti, PTS Art's Factory , Neue Road Movies, Fondazione Solares Suisse and Decia Films.
8 de Março de 2018
Cinco anos após a eleição do Papa Francisco (13 de Março de 2018) o Movimento Internacional Nós Somos Igreja e a European Network Church on the Move (EN) apelam ao Papa Francisco para que prossiga o processo reformista da Igreja Católica Romana e o intensifique significativamente. A eleição do primeiro Papa sul-americano, que iniciou o seu papado pedindo ao mundo para rezar por ele, inspirou incomensurável esperança nos corações de inúmeros católicos, especialmente muitos dos que se sentiram desiludidos com a incapacidade de a nossa Igreja concretizar as promessas do Concílio Vaticano II, considerado como potencialmente impulsionador de maior fidelidade ao Evangelho e de modernização da Igreja.
Actualmente, delegados e representantes de movimentos de Reforma da Igreja Católica e de Justiça Social transmitem ao Papa Francisco avaliações nitidamente contraditórias. O WAC-I e a EN louvam Francisco por afinar a sua vida em solidariedade com os pobres, promover o diálogo dentro e para além da Igreja, tentar refrear os abusos hierárquicos da riqueza e do poder eclesiástico e por falar de uma forma acessível a todos. Todavia, muitas das suas reformas têm enfrentado a resistência de membros da Igreja nomeados pelos dois papas anteriores, João Paulo II e Bento XVI. O WAC-I e a EN apelam aos cardeais, bispos e a todos os Católicos para que adoptem a visão de Francisco, que considera a Igreja como serva e guardiã.
Os lideres do WAC-I e da EN elogiam o Papa Francisco pela sua incessante defesa dos refugiados e migrantes, pelo seu vigoroso compromisso com a paz mundial fundada na justiça, pela sua proposta de não-violência em todos os conflitos, pela sua presença visível nas comunidades habitualmente marginalizadas e por optar pela simplicidade na sua vida pessoal. Aplaudem o uso racional da Terra promovido na sua encíclica Laudato Si. Reconhecem a sua coragem ao punir e destituir bispos e cardeais que ostentaram riqueza e ao ordenar aos líderes eclesiásticos que coloquem a ênfase na pastoral e não na burocracia. Valorizam o facto de o Papa ter elegido áreas sub-representadas do globo na nomeação de novos cardeais e realçado as competências pastorais na nomeação dos bispos. Apoiam as tentativas papais para entabular diálogo sobre questões relevantes para as famílias e os jovens, solicitando o contributo dos membros da Igreja na preparação destes Sínodos. Os grupos aplaudiram o empenho do Papa Francisco no reforço da obrigação de prestar contas em assuntos financeiros e o seu respeitoso entendimento com lideres e membros de outros credos.
Os grupos exprimiram igualmente a sua expressiva desilusão com a ausência de alterações substanciais em algumas áreas politicas e dogmáticas da Igreja e com a oposição que as tentativas reformistas do Papa enfrentaram no seio da Cúria. Sublinharam que o Povo de Deus se mantém excluído das tomadas de decisão em todos os níveis da Igreja e que o diálogo desejado pelo Papa Francisco não tem sido acatado a todos os níveis. Sublinharam igualmente que não tem havido suficientes alterações na desigualdade das mulheres na Igreja, apesar da nomeação de uma comissão de estudo reunida para analisar as questões do diaconado das mulheres. O Papa tem reafirmado a ênfase da Igreja na complementaridade, a qual prescreve papéis para mulheres e homens com base no género, reconhecendo apenas o casamento permanente e único de uma mulher e de um homem aberto à procriação e à educação dos filhos. Isto significa que as pessoas divorciadas, recasadas, em concubinato e LGBT, bem como as que recorrem à contracepção, que constroem famílias através de tecnologias de procriação medicamente assistida ou praticam abortos, são frequentemente excluídas da participação plena na Igreja. O Papa nomeou uma comissão para gerir os abusos sexuais cometidos por presbíteros da Igreja, mas a oposição ao seu trabalho por parte dos membros da Cúria impediu-a de realizar a sua missão. Um enérgico defensor e sobrevivente de abusos sexuais demitiu-se em protesto, permitiu-se que a autoridade da Comissão expirasse e, quando voltou a ser nomeada, incluía muitos membros considerados fracos e com menor probabilidade de desafiar a liderança eclesiástica. A Igreja deve abandonar os processos de condenação e excomunhão e mostrar mais respeito pelo pluralismo, especialmente em termos teológicos. A unidade cristã mantém-se bloqueada porque a nossa Igreja se recusa a aceitar a comunhão compartilhada. O WAC-I e a EN realçaram igualmente que, apesar de diversos convites, o Papa não se encontrou com líderes reformistas nem de redes renovadoras da Igreja a fim de dialogar sobre áreas de interesse comuns.
O Movimento Internacional Nós Somos Igreja e a European Network Church on the Move apelam para que o Papa Francisco renove o seu compromisso com as profundas reformas necessárias para libertar a Igreja Católica de tradições hierárquicas rígidas, com o maior envolvimento dos leigos e sobretudo das mulheres, e garanta que a Igreja vive verdadeiramente no espírito do Evangelho de Jesus num mundo em profunda turbulência. Rezamos para que este quinto aniversário assinale um tempo de renovação radical da nossa Igreja.
Contacto: Marianne Duddy-Burke, U.S.A., This email address is being protected from spambots. You need JavaScript enabled to view it., +1 617 669 7810
Contacto: Raquel Mallavibarrena, Spain, This email address is being protected from spambots. You need JavaScript enabled to view it., +34 649 332 654
*********
A European Network Church on the Move (EN) é uma convergência espontânea de organizações – associações, comunidades, grupos e redes informais – de Cristãos europeus, maioritariamente Católicos, os quais partilham
(1) a visão de uma Igreja profética, ecuménica, libertadora, tolerante, afectuosa, que não exclui nem discrimina e segue na peugada de Jesus, o Libertador.
e
(2) a vontade de trabalhar, respeitando a diversidade cultural e religiosa, em prol da paz, da justiça, dos direitos humanos e da democracia, permanecendo na Igreja Católica (cf. Declaração sobre os direitos e liberdades na Igreja Católica, Rede Europeia, 1994)
**********
O Movimento Internacional Nós Somos Igreja (WAC-I) fundado em Roma em 1996, é uma coligação global de grupos reformistas nacionais da Igreja. Está empenhado na renovação da Igreja Católica Romana baseada no Concílio Vaticano II (1962-1965) e no espírito teológico que dele emana.