This website is undergoing refurbishment.
We apologise for any inconvenience during your visit.
Martin Luther
Luther was a German theologian whose writings inspired the Protestant Reformation.
Martin Luther was born on 10 November 1483 in Eisleben. His father was a copper miner. Luther studied at the University of Erfurt and in 1505 decided to join a monastic order, becoming an Augustinian friar. He was ordained in 1507, began teaching at the University of Wittenberg and in 1512 was made a doctor of Theology. In 1510 he visited Rome on behalf of a number of Augustinian monasteries, and was appalled by the corruption he found there.
More information about Martin Luther
The 95 Theses  [DE]  [ES]  [FI]
Details

Category: Martin Luther
Public Witness uses online media to call for reforms
The aim of this project was to mark the 500th anniversary of Martin Luther nailing his 95 theses for reform to the church door in Wittenberg on the 31st of October 1517. The Church needed to be reformed THEN, and the church needs to be reformed NOW!
We decided that the image of Martin Luther nailing his theses to the church door was a powerful image for reform. We asked our members around the world to bring posters seeking reforms to the doors of their churches and to take photos. Where Luther had used the printing press we would use online media to spread our message for reforms needed in the Catholic Church.
Our posters were translated into several different languages and each country adapted the points to be appropriate for their country.
We received over 500 photos from 6 continents and from 17 countries! And close to 500 people participated with our witnessing outside churches. This was certainly a success! Austria definitely led this project from start to finish! They printed over 1000 posters and distributed them all around Austria. And it was good to see a number of photos with priests taking part!
It was great to have 3 countries in South America taking part (Brazil, Chile and Argentina). Special mention also for Pakistan and South Africa for taking part.
The 17 countries form 6 continents taking part were:
Argentina
Australia
Austria
Belgium
Brazil
Chile

England
Germany
Ireland
Netherlands
Northern Ireland
Norway

Pakistan
South Africa
Spain
USA
Vatican
Thank you to all who took part. Please click on the picture below to go to the Reformation 500 album
Details

Category: Martin Luther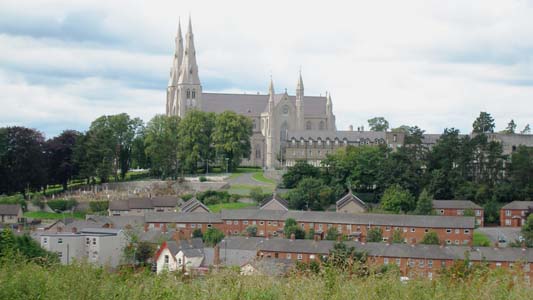 Lord, we pray, in humility, from the love with which we regard the Church,
In the spirit of fraternity and sorority with which we approach our fellow Catholics
and the spirit of vigil, not of protest, in which we gather.
God of the nations,
to your table all are invited
and in your family no one is a stranger.
Lord Jesus, you stood with the poor, sick, and marginalized during your lifetime, and you call us to stand on the side of the oppressed in our society today. Give us the strength not to remain silent in the face of injustice so that we can work towards a more peaceful, just kingdom on earth.
Lord, we pray for reunion, on the anniversary of the greatest separation within Your Body on Earth;
For our Churches and our parishes that they may become the family home to all Your children;
For our Church that it may be infused with a new energy and a new openness that will allow it to fulfill its missionary and Evangelistic purpose.
Lord, we pray for Pope Francis and the leaders of the Church in Ireland, especially Archbishop Eamon Martin outside whose home we gather, that they may be guided by the Spirit in wisdom and understanding, that they may always have open hearts and listening ears to hear the cries of those marginalised through no fault of their own.
And grant us, Lord, a respectful hearing from those to whom we give this witness.
May we grant them the same respect in our listening to them,
and a recognition by all, that we stand and speak in love of, and in hope for, this Divine Body that is Our Church.
Lord Jesus, we ask you now
to help us remain with you always,
to be close to you with all the ardour of our hearts,
to take up joyfully the mission you entrust to us,
and that is to continue your presence
and spread the good news of your resurrection.
Amen
(Picture: By Flying jacket - Own work, CC BY-SA 3.0, Link)
Details

Category: Martin Luther
A 500 años de la Reforma, la Iglesia perdió el rumbo
Cuando Martín Lutero irrumpía en la historia, la Iglesia vivía una crisis institucional de grandes proporciones. Ayer como hoy, esa Iglesia era la jerarquía, y sus principales desvelos eran aumentar su patrimonio económico para afianzar su poder político. La venta de indulgencias era la mejor prueba de ello.
La respuesta de Lutero fue una contundente interpelación moral a la Iglesia de Roma, porque, anteponiendo el dinero y el poder, sacrificaba la supremacía del Evangelio.
Entre las 95 tesis de Lutero que acusaban la degradante venta de indulgencia, la 59 recordaba al Papa León X que "el verdadero tesoro de la Iglesia eran los pobres".
Después 500 años de aquel acontecimiento, el poder eclesial se ha acrecentado, y la Iglesia, con el papado a la cabeza, es una monarquía absoluta; mientras los pobres abandonan la Iglesia y los predilectos de la Iglesia son los poderosos y los satisfechos, contra quienes profetizó María en el Magníficat.
Los frutos revelan las verdaderas motivaciones de quienes se adueñaron de la Viña del Señor. Así, escándalos y vergüenzas de la jerarquía gritan desgarradoramente que la Iglesia perdió el rumbo en la historia.
Hoy, más que nunca, urge una Gran Reforma de la Iglesia para que vuelva al Evangelio …
UBI TRES, ECCLESIA EST = DONDE HAY TRES, HAY IGLESIA
"El tesoro de la Iglesia son los pobres", tuvo su origen con San Lorenzo (S.II), encargado de administrar los bienes de la Iglesia y el cuidado de los pobres. El alcalde de Roma, pagano y ambicioso ordenó a Lorenzo entregara riquezas de la Iglesia. Lorenzo pidió tres días para recolectarlas, y en esos tres días fue invitando a todos los pobres, lisiados, mendigos, huérfanos, viudas, ancianos, mutilados, ciegos y leprosos que él ayudaba. Al tercer día compareció ante el prefecto, y le presentó a éste los pobres y enfermos... y le dijo que esos eran los verdaderos tesoros de la Iglesia. El prefecto ordenó quemarlo vivo sobre una parrilla. Lorenzo nos está recordando el rumbo perdido de la Iglesia.
"EXIGIMOS QUE SE ABRAN LOS LIBROS DE CONTABILIDAD DEL VATICANO Y DE TODAS LAS IGLESIAS"
REFORMA DE LA IGLESIA AHORA !
Estructura democrátic
Sacerdotes casados
Bienvenida para todos
Justicia NO derecho canónico
Mujeres sacerdotes
Abrir libros de contabilidad vaticana
DEMOCRATIZAR la IGLESIA: ELECCION del PAPA y de NUESTROS OBISPOS !
Invitamos a participar y a expresarte en una acción de ámbito internacional para conmemorar el quinto centenario aniversario de las 95 tésis de Martín Luther para la reforma, que clavó a la puerta de la Iglesia de Todos los Santos en Wittenburg. Esta acción simple pero significativa la realizaremos el próximo 29 de octubre, a las 12 horas, frente a la Catedral de Santiago-Chile.
EL PROBLEMA NO ES EL PAPA, EL PROBLEMA ES EL PAPADO
IGLESIA = DEMOCRACIA
Inicialmente convocan-participan, más también tu puedes agregarte al reenviar:
Organización Laicos y Laicas de Osorno - Red Laical - Movimiento Teología de la Liberación - Movimiento Caminemos - Movimiento También Somos Iglesia - Rufino Arce - Patricio Vejar (DD.HH) - Juan Carlos Claret - Juan Subercaseaux A. (DD.HH)- Marco Velásquez (teólogo) - Lina Tudela (Pastoral Social y de la diversidad) - Enrique Orellana F. - Manuel Rojas Lagos (abogado) - Iván Rozas Villagra (Comunidad Cristo Liberador) –
SI TU Y YO NO HACEMOS "LÍOS" A CORRUPTOS Y ABUSADORES, Y NO CUIDAMOS NUESTRA CASA COMÚN... ENTONCES QUIÉN.
Jesús fue ayer en el templo y ahora: "UN INDIGNADO"
We Are Church - Chile