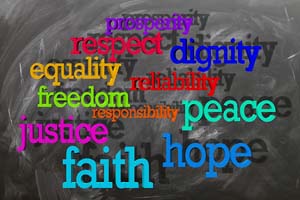 Il fermare e il discriminare i rifugiati, gli immigranti e i mussulmani, l'indicare  ogni diversità sociale come fonte di paura, l'attaccare la libertà religiosa e il costruire una barriera al confine tra il Messico e gli USA sono fatti che offendono l'intera umanità.
Noi, il movimento internazionale We Are Church, siamo profondamente coinvolti come cristiani, come uomini e donne, e allora alziamo con forza la nostra voce contro questo sfacciato disprezzo per i diritti umani.
Parliamo con le stesse parole delle nostre sorelle e dei nostri fratelli negli USA, soprattutto di quelli della Leadership of Conference of Women Religious (LCWR) e di Pax Christi. Essi affermano " Dio invita ad accogliere lo straniero (Mt. 25,35) e a prendersi cura di chi ha più bisogno (Mt. 25,40)". Essi dicono: "Noi vogliamo un paese in cui l'unico prerequisito per vivere, essere ben accolto e godere dei propri diritti  sia quello di essere un uomo".
Siamo convinti, secondo quanto dice il Vangelo, che tutti gli uomini, ovunque nel mondo, senza distinzione per  colore della pelle,  religione, condizione sociale, orientamento sessuale o paese d'origine sono fratelli e sorelle e che tutti  noi dobbiamo essere accoglienti e responsabili gli uni verso gli altri.
Condividiamo una prospettiva di giustizia che escluda l'odio e costruisca ponti invece di muri.
Noi proclamiamo la pace e la giustizia prima di tutto, per ogni uomo e per ogni popolo del mondo.
Roma, 6  febbraio   2017                   We Are Church International