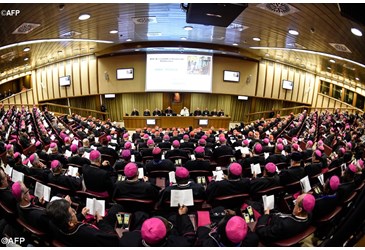 (Vatican Radio) Pope Francis's highly-anticipated post-synodal Apostolic Exhortation, "Amoris Laetitia" (The Joy of Love) on love in the family will be released on Friday 8th April. The Vatican said the Exhortation will be presented to journalists at the Holy See's Press Office on Friday 8th April at 11.30. 
The text of the Apostolic Exhortation in Italian, French, English, German, Spanish and  Portuguese (in paper and/or digital format) will be available to accredited journalists from 8.00 a.m. (Rome time) on Friday 8th April. However, the document will remain under embargo until 12 noon that day. 
The panel of speakers at the press conference will include: Cardinal Lorenzo Baldisseri, general secretary of the Synod of Bishops; Cardinal Christoph Schönborn, O.P., archbishop of Vienna, and an Italian married couple: Professor Francesco Miano, lecturer in moral philosophy at Rome's University of Tor Vergata, and his wife, Professor Giuseppina De Simone in Miano, lecturer in philosophy at the Theological Faculty of Southern Italy in Naples.
A simultaneous translation service will be available in Italian, English and Spanish. The Press Conference can be seen via live streaming (audio-video) on the site: http://player.rv.va (Vatican Player, Vatican Radio) where it will subsequently remain available on demand. 
The Apostolic Exhortation is the conclusion of a two-year synod process discussing both the beauty and challenges of family life today.
In 2014 the Vatican hosted an Extraordinary Synod which was in preparation for the October 2015 Ordinary Synod. An estimated 190 bishops from around the world participated in each gathering.
The 2015 Synod's theme was "the vocation and mission of the family in the Church and the modern world."