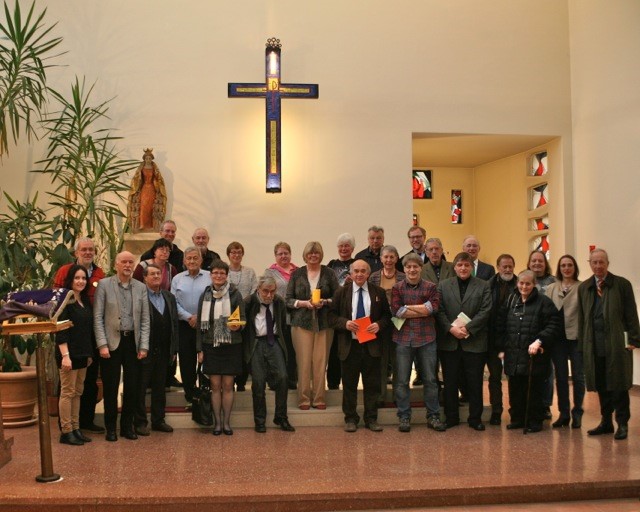 At this year's IMWAC-Council meeting member groups confirmed their support for Pope Francis' goals for reformation in the spirit of the Second Vatican Council and encouraged the bishops to increase their backing.
Key issues were the Family Synod and Council 50 meeting in Rome November 2015.
The delegates decided on three priorities that IMWAC believes should be adopted by the Family Synod:
An open and sensitive handling of those who have remarried, and Catholics in families that don´t follow the narrow standards of the Roman Catholic teaching.
Respectful and non-discriminatory acceptance of lesbian, gay, bisexual and transgender people,
A fundamentally new understanding of sexuality and major events in human life to guide the development of the Church's moral teaching and pastoral practice. 
There was a great deal of concern that only celibate bishops are entitled to vote at the Synod, which deals with the theme of family and sexuality. A letter about these concerns will be sent to the Synod Secretary Cardinal Baldisseri.
In addition, the group continued planning for a major meeting of reform groups in November 2015 to mark the 50th anniversary of the end of the Second Vatican Council. COUNCIL 50 will bring together people from all continents to examine how the Council has born fruit in our Church so far and how much the Catholic Church has yet to fulfill the vision of the Council.
This year's meeting of the International Movement We Are Church (IMWAC) was held in Vienna and brought together 20 representatives from 12 countries. Among those present for the meeting  were Dr. Herbert Kohlmeier, the chairman of the laity initiative in Austria, and his deputy, Prof. Dr. Heribert Köck, as well as the founder and chairman of the priests initiative Helmut Schüller and the chairman of the "priests without office," Herbert Bartl. Members of the Vienna group of We Are Church had helped in the organization and were also present during the meeting.
Sigrid Grabmeier of  the German We-Are-Church movement was elected Chair of the IMWAC Council. Her deputy will be  Martha Heizer from Austria. Christian Weisner from Germany  will continue as a media spokesperson, Valerie Stroud from England continues as webmaster. Colm Holmes, Ireland, will serve as treasurer and Jean Pierre Schmitz, France, as a liaison to reform groups in Asia and Africa, assisted for the contacts in South America by Mauro Castagnaro from Italy.
The Eucharistic celebration was presided by Helmut Schüller. His sermon was stimulating and will be remembered.
During an evening visit to a typical Austrian wine tavern and throughout the weekend, there were many opportunities for networking and community building. The meeting was, as Erik of Sweden put it, "like a family party"!
[The picture shows delegates with Fr Helmut Schüller who presided at their Mass]