This website is undergoing refurbishment.
We apologise for any inconvenience during your visit.
Synod on the Family
Details

Category: Synod on the Family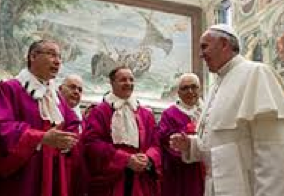 He is Professor Danilo Castellano, one of the leading experts on the subject. He judges the reform as "contradictory and inconsistent." But Cardinal Kasper doesn't like it, either (by Sandro Magister)
Details

Category: Synod on the Family
Vatican City, 2 October 2015 (VIS) –
This morning in the Holy See Press Office Cardinal Lorenzo Baldisseri, general secretary of the Synod of Bishops, gave a presentation of the phases and methods of the Ordinary General Assembly of the Synod of Bishops on "The vocation and mission of the family in the Church and the contemporary world", which will commence on Sunday 4 October.
"Tomorrow evening, in St. Peter's Square, in the presence of the Holy Father, a prayer vigil will be held in preparation for the Ordinary General Assembly of the Synod of Bishops, to be attended by the Synod Fathers, the participants in the Synod and all the faithful of the world, on an initiative of the Italian Episcopal Conference, which has invited families, movements and ecclesial associations. At nightfall the beauty of the family will shine through lighted torches. The trustful invocation of the Holy Spirit by the People of God is the prelude to the work of the Synod; indeed, we recall the important tone given to the last Extraordinary General Assembly by the Holy Father, with the powerful homily he gave during the Vigil.
Details

Category: Synod on the Family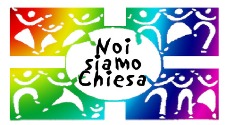 Riflessioni e proposte di Noi Siamo Chiesa sul testo "Le sfide pastorali sulla famiglia nel contesto della evangelizzazione" contenente le questioni sottoposte alla consultazione del Popolo di Dio dalla segreteria del Sinodo dei vescovi in preparazione della sessione ordinaria dell'ottobre 2015
Una consultazione carente
Dopo lo scorso Sinodo si sono avviate altre consultazioni nella base del popolo cristiano per il prossimo Sinodo ordinario di ottobre. Esse hanno più tempo a disposizione di quelle precedenti e hanno alle spalle i documenti sinodali e tutto il dibattito prima e dopo. I Sinodi precedenti sono stati pressoché inutili, con dibattiti tutti interni al mondo ecclesiastico. Ora però le cose stanno cambiando. Le attuali quarantasei domande riguardano tematiche che ci sono ormai consuete. Sempre positivo ci sembra questo metodo di porre problemi da discutere, di cercare di guardare la realtà che è spesso lontana dalle predicatorie litanie tradizionali sulla famiglia del nostro mondo ecclesiastico. Questo metodo però, almeno nel nostro paese, non è ben gestito. Il momento della riflessione sulle questioni proposte si ferma alle parrocchie e agli incontri di base, dove questi si fanno e sul numero e le caratteristiche dei quali non riusciamo ad avere informazioni generalizzabili. Poi tutto si incanala in un percorso gerarchico, a filtri successivi, verso le diocesi e poi verso la Conferenza Episcopale. Nulla viene comunicato sulle caratteristiche e sui contenuti di questa consultazione che dovrebbe essersi già conclusa. L'unica informazione vera, nel Consiglio Episcopale Permanente di marzo, riguarda "l'importanza dell'alleanza tra sacerdoti e sposi; per cui i candidati al ministero ordinato facciano esperienza reale di pastorale familiare". Continua quindi la tradizione di nessuna trasparenza che i nostri vescovi ritengono utile affinché lo Spirito Santo possa manifestarsi senza occhi od orecchie indiscrete che lo ascoltino. Per fortuna, a quanto sappiamo, nella gran parte degli altri paesi, non è così ed una nuova riflessione sul messaggio autentico dell'Evangelo sulla famiglia si sta facendo strada nella Chiesa universale.
Subcategories