This website is undergoing refurbishment.
We apologise for any inconvenience during your visit.
Synod on the Family
Details

Category: Synod on the Family
We thank Rossoporpora for this excellent report of the pressconference on 4 October 2014.
Please use Google or Bing to translate it into your language.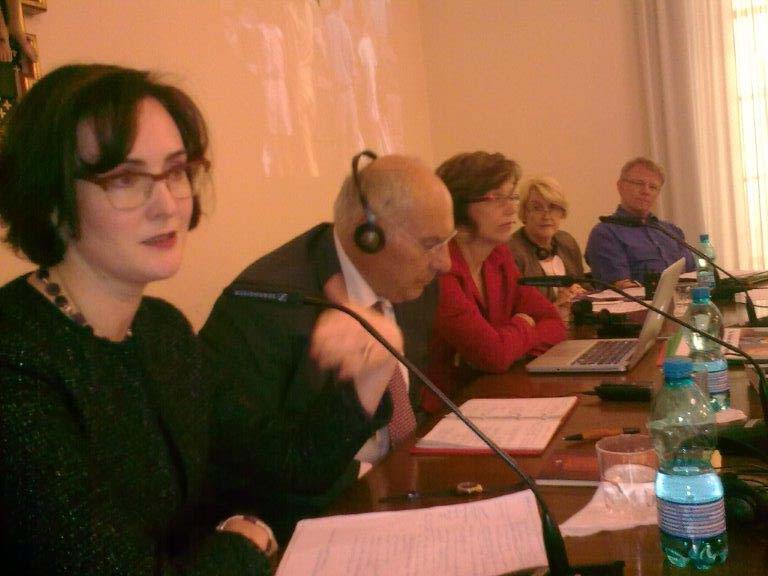 Nella conferenza-stampa odierna "Noi siamo Chiesa" in versione internazionale ha presentato le proprie richieste a un Sinodo, in cui tuttavia non nutre grandi speranze, dato che la maggior parte dei padri sinodali sarebbe legata al concetto "obsoleto" della legge naturale. Maggiori speranze in Francesco, per quasi tutti i relatori un benvenuto Papa di svolta, che comunque deve affrontare forti resistenze interne.
Sul far del mezzogiorno ci è stata offerta l'occasione di partecipare alla conferenza-stampa di 'Wir sind Kirche' internazionale riguardante il Sinodo sulla famiglia e "le aspettative del popolo di Dio". Siamo quindi andati volentieri presso le Suore domenicane di san Sisto vecchio, davanti alle Terme di Caracalla, per ascoltare quanto aveva da dire il movimento forse più rappresentativo del cattolicesimo cosiddetto progressista a proposito dell'Assemblea straordinaria dei vescovi del mondo. Non siamo stati certo delusi, poiché le brevi relazioni di alcuni fra i più importanti esponenti del movimento e le risposte alle successive domande dei giornalisti sono state tali da lumeggiare con chiarezza le posizioni di 'Wir sind Kirche' nella sua configurazione internazionale. Come è noto il movimento è nato nel 1995, a seguito delle tristi vicende relative al cardinale austriaco Groer, con una raccolta di firme per un rinnovamento radicale della Chiesa cattolica  (vedi ad esempio sacerdozio femminile e rinuncia all'obbligo del celibato maschile): in poche settimane erano state raccolte due milioni e mezzo di firme in Austria, Germania, Südtirol. Rapidamente il movimento si è molto internazionalizzato e ora è presente in oltre 40 Paesi: in particolare ha acquisito forza nel mondo anglosassone. In Italia "Noi siamo Chiesa" è stato costituito nel 1997, volutamente a 35 anni dall'apertura del Concilio ecumenico vaticano II.
Dalla conferenza-stampa di oggi - in cui si sono udite voci rappresentative del mondo tedesco, anglosassone e italiano – riportiamo alcuni momenti particolarmente significativi. Prima di tutto può essere interessante situare il movimento rispetto a papa Francesco. A una nostra domanda sull'argomento ovvero a sapere se Wir sind Kirche consideri "rivoluzionario" il pontefice argentino, hanno risposto tutti i relatori e anche il moderatore. Dal che si arguisce che il tema è particolarmente sentito. Riportiamo alcuni stralci delle valutazioni ascoltate.
PAPA FRANCESCO? VERSO DI LUI FIDUCIA, PUR CONSAPEVOLI DEGLI OSTACOLI CHE INCONTRA
Christian Weisner, moderatore e storico portavoce del movimento, Germania: "Fin qui ha agito meglio che poteva, ma c'è sempre una parte di Chiesa che cerca di ostacolarlo. In Germania si è ancora un po' riluttanti a sostenerlo con cuore, mente e azioni. Siamo oggi a un punto di svolta, perché Francesco sta cercando di tornare al Concilio. Al di là delle opposizioni di parte della gerarchia, è positivo che abbia ripreso fiducia nel Papa".
Martha Heizer, cofondatrice di 'Wir sind Kirche', Austria: "Papa Francesco ha cambiato in pochi giorni l'immagine della Chiesa. Sono felice che sia successo. Stiamo attendendo le riforme, ma purtroppo non è ancora giunto il tempo".
Miriam Duignon, Wijingardards Institute for Catholic Research, Londra: "Non credo che papa Francesco sia un vero rivoluzionario. Penso che l'abbiano scelto credendo di eleggere un conservatore. Sta operando in modo che ci sia un crollo del 'muro di Berlino' all'interno della Chiesa. Si dovrebbe perciò abolire l'obbligo del celibato sacerdotale".
Oliviero Arzuffi, Noi siamo Chiesa, Italia: "L'elezione di papa Francesco è stata una vera, grande svolta. Però attenderei il varco sul piano teologico-dottrinale. La questione dell'accesso ai sacramenti dei divorziati risposati è certo uno snodo fondamentale su tale piano. La soluzione indicherà se ci sarà stato oppure no un salto di qualità nell'approccio della Chiesa a questioni del genere".
Deborah Rose-Milavec, direttore esecutivo di 'Future Church', Stati Uniti: "Penso che una volta che si ammetta che l'insegnamento tradizionale della Chiesa ha dei punti deboli, allora dentro la Chiesa può iniziare una rivoluzione vera e propria".
'CHI SONO IO PER GIUDICARE?' UNA FRASE GENIALE DI CAMBIAMENTO
Michael Brinkschröder, co-presidente del Forum europeo dei gruppi Lgbt cristiani: "Ha cambiato l'approccio della Chiesa quando ha detto Chi sono io per giudicare? E' stata una frase geniale, che ha dato avvio a diverse ricadute pastorali".
Paul Collins, giornalista e storico del Papato, sacerdote per 32 anni, Australia: "Da storico vorrei essere un po' più cauto dei miei colleghi. La forza di papa Francesco è di avere spostato il focus della Chiesa verso il Terzo Mondo e verso il popolo tutto intero, senza esclusioni. Penso che i cattolici occidentali si siano create attese eccessive su papa Francesco. In fin dei conti è un vescovo argentino, che comunque cercherà di disfarsi della maggior parte della Curia Romana. E questo non è certo un peccato".
Marylin Hatton, rappresentante australiana del movimento internazionale per il sacerdozio femminile: "In poco tempo papa Francesco ha scombussolato la Chiesa. E, pur tra grandi cautele, Francesco non chiude del tutto la porta nemmeno alla possibilità del sacerdozio femminile".
SETTE DOMANDE PER IL SINODO
Per diversi relatori il Sinodo è formato da persone in maggioranza legate al concetto "obsoleto" della legge naturale e dunque, in verità, non c'è molto da sperare. Piuttosto, ha rilevato Marylin Hatton, "cardinali e vescovi devono essere rieducati, perché fin qui sono vissuti in una specie di microcosmo che ignora la parte femminile della realtà". Tra i porporati una lode solo al cardinal Kasper che, secondo Deborah-Rose Milavec, ha detto che "il controllo delle nascite è responsabilità della coppia".
Sono sette le domande fondamentali cui il Sinodo dovrebbe rispondere, ha detto Martha Heizer. Di quale immagine di famiglia si discuterà? Che cos'è una famiglia? (osserva qui in maniera illuminante la cofondatrice di 'Wir sind Kirche': Le cristiane e i cristiani che si impegnano sinceramente nella vita familiare e nel rapporto di coppia si ritrovano in diverse forme di vita e di famiglia: matrimoni felici ma senza figli, matrimoni falliti e convivenze, secondi matrimoni felici, madri e padri single, famiglie patchwork, convivenze omosessuali con o senza figli, single in contesti di vita familiare.. (Ndr: che le convivenze omosessuali possano avere dei figli è un'affermazione in contrasto pieno con la natura umana, che non è né cattolica né cristiana né di altra religione né non credente)   
Terza domanda: Si prenderà in considerazione la complessità della vita moderna? Poi, le altre: Come è possibile andare incontro alle situazioni delle famiglie e dei rapporti di coppia nelle situazioni difficili? Si prenderanno in considerazione le diverse situazioni delle donne e degli uomini in famiglia? Come si vedrà la condizione dei bambini? (Ndr: in questa domanda c'è anche l'asserzione: "II bambini hanno diritto all'autodeterminazione") Che impatto hanno le moderne tecniche riproduttive sulle famiglie, i matrimoni e i rapporti di coppia? Qui ha rilevato tra l'altro Martha Heizer: "E' ormai un dato di fatto che in molte società si siano generati e si generino bambini con l'aiuto di moderne tecnologie riproduttive. Nemmeno la Chiesa cattolica può impedirlo".
 UNA LETTERA PER PAPA FRANCESCO
Nel suo intervento Oliviero Arzuffi – che si è definito inizialmente "separato, divorziato e risposato" – ha annotato che le persone in una condizione come la sua sono "non più esigua minoranza nella Chiesa, ma moltitudine senza numero ormai in Italia e nel mondo". Tali persone "chiedono solo la riconciliazione con se stessi, con la comunità cristiana e con Dio, dopo il doloroso trauma di un fallimento matrimoniale". Tale richiesta, ha detto il rappresentante di "Noi siamo Chiesa", "non può più essere disattesa né aggirata con proclami di accoglienza ma escludenti nel diritto e nei fatti". Neppure "consegnata alle contorsioni del diritto canonico, pena la negazione stessa del messaggio evangelico e gravi pericoli per la comunione ecclesiale". Qui Arzuffi ha definito "una bestemmia" il ricorrere al diritto canonico per una questione pastorale e si è dichiarato deluso dal recente intervento in materia di comunione ai divorziati risposati del cardinal Scola, che contiene "giustificazioni che non hanno nulla di conoscenza biblica e di afflato pastorale".
Arzuffi ha ricordato una lettera inviata a papa Francesco (e che – dice il relatore - secondo la Segreteria di Stato, sarebbe stata "molto apprezzata per il suo rigore") in cui l'intellettuale bergamasco condensa in tre punti principali le richieste di cambiamento della disciplina ecclesiale in materia di divorziati risposati. Primo: bisogna assolutamente "porre fine all'emarginazione dei divorziati risposati nella Chiesa". Ha detto Arzuffi che "l'esperienza fatta è drammatica, soprattutto nell'ambito ecclesiale", dove "si esclude dalla catechesi e dalla liturgia" e "si licenziano insegnanti in tale condizione".  Secondo: bisogna "rivedere la disciplina alla luce dei testi biblici", perché "non è vero che la Chiesa ha conosciuto nella storia solo l'indissolubilità del matrimonio". Terzo: se la questione non viene affrontata "convenientemente",  il rischio è "grande" che "si interrompa il dialogo con le altre Chiese e si provochi una spaccatura all'interno della Chiesa cattolica".
ALTRE RICHIESTE AL SINODO
Tra le altre richieste al Sinodo "Noi siamo Chiesa" postula la libertà di coscienza in materia di regolazione delle nascite, l'accettazione piena nella comunità cristiana delle persone omosessuali (come ha detto Michael Brinkschröder, che si è definito "teologo cattolico gay", le relazioni omosessuali "sono un luogo di cura reciproca e meritano la benedizione della Chiesa"), l'accettazione di tutte le relazioni affettive vere (convivenze), la rivalutazione del matrimonio civile verso un percorso che porti a quello religioso.
Details

Category: Synod on the Family
We thank FutureChurch for this account
As the crowds streamed into the Vatican Basilica for the opening mass for the Synod on the Family, members of Catholic Church Reform International 
were joined by International Movement of We Are Church, Women's Ordination Worldwide and other international reform groups to protest the lack of real decision making power for families at the Synod.  They unfurled a sign that read, "Families must have vote in family synods."
The group was quickly surrounded by the police who challenged their right to be in the square.  CCRI co-founder, Rene Reid, showed the officers the permit she had obtained for the event, but that was not sufficient.  With more than a dozen officers surrounding the group, the police snapped photos of the group's signs, song sheets, and confiscated Reid's passport.  Given the circumstances, the group rolled up the signs and waited.  The police later returned with Reid's passport and agreed they could conduct their peaceful protest.
From our own archive:
A previous occasion when police in Rome seized passports from well intentioned Catholics was at the Synod of the People of God 2001 which offered a response from lay Catholics to the Bishops' Synod on the Life and Work of the Bishop.  We Are Church had gathered representatives from around the world to put their concerns and needs regarding the topic to the Synod.   The assembly wrote a letter to the Bishops which they wished to deliver peacefully and without ceremony to the Synod General Secretary's residence.  The police barred the way and only after much negotiation and surrender of their identity documents allowed Shadow Synod organisers  to approach the letter-box and deliver the letter.  
Details

Category: Synod on the Family
Christian and Martha have been busy taking photos.  We offer below a selection.
Christian Weisner

 

Co-founder of the Church Referendum We are Church in Germany with 1.8 million signatures in 1995. Co-founder of We are Church Germany and of the International Movement We are Church in 1996. Weisner, a former town planner, organised several Shadow Synods in Rome. He lives with his family near Munich / Germany.

 

E-Mail: This email address is being protected from spambots. You need JavaScript enabled to view it., cell: +49-172-5 18 40 82

 

Dr. Martha Heizer

 

Chair of Wir sind Kirche-Austria and Chair of IMWAC, she is one of the three initiators who started the "Kirchenvolks-Begehren" in Austria in 1995. Former teacher of religious education, development psychology and methods of social research at the University of Innsbruck. Martha Heizer has 3 children and 2 granddaughters. She lives near Innsbruck (Austria).

 

E-Mail:

This email address is being protected from spambots. You need JavaScript enabled to view it.

; Tel. 0043 650 4168500; www.wir-sind-kirche.at

Miriam Duignan

 

Wijngaards Institute for Catholic Research: www.wijngaardsinstitute.org

Miriam Duignan +44 7970 926910 or

This email address is being protected from spambots. You need JavaScript enabled to view it.

Oliviero Arzuffi

 

Oliviero Arzuffi was born in the province of Bergamo in 1946 and still resides there (Tel. 3388787412; 035639377. Mail: This email address is being protected from spambots. You need JavaScript enabled to view it..).

 

He was divorced 15 years ago with 2 children, and remarried 8 years ago to a divorcee with 2 daughters. He is a professional editor for several publishing houses. He has published numerous books and articles on public health issues related to social marginalization, along with literary works. He was in charge of training for a diocesan chapter of Caritas from 1993 to 1997 until he was "relieved" of his post due to his failed marriage. Because of his experience of marginalization in today's church, he has just published an open letter to Pope Francis entitled Dear Pope Francis: Letter from a divorced man (Oltre Edizioni, 2013). The book, hand delivered directly to the Pontiff, has received comments in the magazines Jesus, La Rocca and Famiglia Cristiana, but there has been no response from the institutional Church. 

 

 

 

 

Deborah Rose-Milavec

 

Deborah Rose-Milavec is the Executive Director (direttore esecutiva) of FutureChurch, a U.S.A. based Vatican II-inspired reform organization working for greater participation of all the baptized in the life and leadership of the Church.

 

 I have long served in positions working for women's rights and equality including my prior work with Catherine of Siena College, an online gender and women's studies program for women and men in developing regions of the world.  

 

I live in Lakewood, Ohio, USA with my husband and am the mother of six children and the grandmother of eleven.  

 

T:  001.216.228.0869 x4, Futurechurch.org This email address is being protected from spambots. You need JavaScript enabled to view it.

 

 

 

Paul Collins

 

Broadcaster, writer and historian of the Papacy

 

giornalisti, scrittore e storico del papato

 

Tel: in Italia: +39-334 118 7037,

 

This email address is being protected from spambots. You need JavaScript enabled to view it.

 

Marilyn Hatton

 

Catholics for Ministry CfM:

Australian Catholic Coalition for Church Reform

 

Tel. in Italia +39-344 062 8479,

 

This email address is being protected from spambots. You need JavaScript enabled to view it.

 

 

Dr. Michael Brinkschröder

 

Co-Presidente del Forum Europeo dei Gruppi LGBT Christani

Co-President of the European Forum of LGBT Christan Groups (Germany)

 

This email address is being protected from spambots. You need JavaScript enabled to view it.,

 

+49/89/65102063, +49/1577/8814399

 

www.euroforumlgbtchristians.eu, http://waysoflove.wordpress.com

 

 

 
Subcategories