This website is undergoing refurbishment.
We apologise for any inconvenience during your visit.
Synod Diary 2015
Details

Category: Synod Diary 2015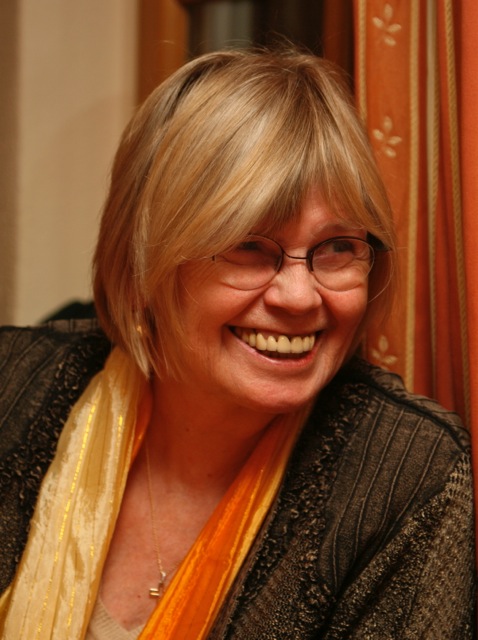 From Martha,
Christian started the day with an interview for a famous German private television company (RTL).
The Press Conference on Tuesday was a quite exciting one, it was a bit boring at the start but turned out to be very encouraging. For the second time I asked for a guest's permission to take part and was warned that I as a guest am not allowed to ask a question. That was a pity because I wanted to do so ("At least 50% of family members are female. Where are the voting women?"). So again I had to be a well-behaved woman in the church, being quiet and listening to men J.
Fr. Lombardi started with an overview of 47 statements made in the Synod Hall in the morning and then asked the members of the panel to do the same, in order to complete what he possibly had forgotten. What we heard at the beginning was an impressing list of issues concerning families, wide-ranging but not really new.
But the little sensations came suddenly. [For the following I quote Patrick B. Craine (LifeSiteNews) https://www.lifesitenews.com/opinion/at-tuesdays-synod-briefing-catholic-doctrine-was-apparently-an-open-questio ]
 "Father Rosica pointed to a number of reforms that Synod fathers have been promoting, in particular: a change in language regarding sinful situations, a wide use of general absolution for the Sacrament of Reconciliation, and the allowance of regional solutions to the question of Communion for the divorced and remarried. Homosexuality, in fact, was the main example Father Rosica used in discussing the language issue, insisting we should never say we "pity gay persons."
"There must be an end to exclusionary language and a strong emphasis on embracing reality as it is. We should not be afraid of new and complex situations," he said.
On the question of the divorced and remarried, he said, "what is needed is not necessarily a universal solution to complex problems. But discussions in small groups and discussions in regional, national, and continental groupings to talk about the solutions to the different areas, the different problems which are not necessarily the same throughout the world."
In his report yesterday morning, Erdo maintained that the Church's practice is an "intrinsic demand" of the sacrament of marriage that is essential to "the Church's witness," and not an "arbitrary prohibition." To admit remarried divorcees to Communion without repentance would oppose the Church's "fidelity to the indissolubility of marriage," he said.
Today at the press briefing, however, Archbishop Celli told reporters asking about the issue that "it is an open question." Commenting specifically on Erdo's report, Celli said, "We can't say everything was closed by the report of yesterday morning."
Later, Archbishop Durocher also suggested the question was up for debate when asked if the matter pertained to Church discipline – which could potentially change – or doctrine, which is fixed.
"To be quite honest, there might be differences of opinion on that," he said. "Let's be honest. Is that a question of doctrine or is that a question of discipline? I think that's probably going to be one of the questions that will be debated in the small groups."
"If you want doctrine, go read Denzinger," he added.
Archbishop Durocher simultaneously praised and dismissed Cardinal Erdo's report by arguing that while it was a "beautiful and classical presentation of the Church's teaching," his approach needed to be complemented by one that is open to dialogue with the world. The report is "an important piece, but it is one piece," he said.
The archbishop argued that there are two dominant temptations at the Synod. "One reaction is to emphasize what the teaching is, out of fear that as the culture moves away from that vision, our own understanding is diluted. The other fear is that we lose contact with our culture and that we close in on ourselves," he said. "We do not want to get into a Ghetto."
A German journalist turned to me and whispered in my ear: "Rosica and Durocher rescued the Synod!" A bit early for such a sentence but that was our feeling.
Fr. Manuel Dorantes added a nice episode to all the reports about the morning in the Synod hall: a three months old baby began to cry. What a new experience to a Synod!
After the press conference Christian attended the a meeting with German journalists and the head of German department of Radio Vatican, Father Bernd Hagenkord.
It was a very long press conference: started at 1p.m. and ended at nearly 3 p.m. So I had to hurry to my next rendezvous with the boss of Austrian broadcasting in Rome. She asked me about Caramsa (the homosexual theologian in the CDF) and told me that the Austrians are more interested in this affair than in the beginning of the Synod. Nobody knows already where the Synod will go, so the Austrians seem to wait.
Deborah Rose-Milavec accompanied me and after the interview we finally had some food together. We had then two very special hours together, speaking about Holy Mary and our mothers and the very hopeful experiences that came out of the sadness of their deaths. Two hours far away from church reform and very inside our faith and our hope!
Christian and Renate had a little walk meanwhile ("I cannot sit the whole day. I need some fresh air!") They met one of the 17 couples taking part in the synod and had a very open and encouraging talk with them. They were just on their way to join the first of the Circuli minori, the working groups. As I told you already the German language group seems to be a very special one, all cocks on one muck hill, as Luther pointed it.
Then I had to do my packing. A last supper with Christian and Renate - and in the early morning starting home.
Thank you all for allowing me to be in Rome!
Martha
Details

Category: Synod Diary 2015
In the morning there were quite extensive speeches in the Synod hall: from Francis, Baldisseri, Erdö. We were able to follow them only in the Sala Stampa, where they were broadcast but not translated. We also could get them in writing but only in Italian. Deborah describes what we heard in her blog.
The Prelude to the Synod was marked by the Pope. He mentioned in his opening speech our God who always surprises, who created the law and the Sabbath for man and not vice versa, who leaves the 99 sheep to look for the one lost sheep. The church should not be a museum to view but a living source for all. We need a wholesome examination of pastoral practices.
After him Cardinal Erdö, the Relator of the Synod, took some trouble to defend the traditional way of our church. (Tradition, means different things to different people.) It took him 7300 words to explain that the current teaching and the current practice cannot be changed.
After that Christian had an interview for the Bavarian television broadcasting.
At noon there is a press briefing every day. I was able to join the first one: Father Lombardi had invited Cardinal Erdö, Cardinal Andre Vingt-Trois and Archbishop Bruno Forte. Erdö was nice and friendly but quite hard and stony concerning the church law and teaching. There will be no change in the doctrine – just in the kind of pastoral care. So do not expect change! – It seemed to us that the harsh criticism he experienced for his interim report at the 2014 Synod had changed his mind completely.
But there were some interesting questions: an Irish journalist cited Mary McAleese's statement at the LGBT Forum, If I wanted expertise on the family, I honestly cannot say that the first thing that would come into my mind would be to call together 300 celibate males who, as far as we know, have never raised a child. Was I dreaming or did I see them blush? And then they offered a rather weak defense. Cardinal Vingt-Trois from Paris said that there all are born and raised in a family, and Archbishop Forte said, they all have a lot of experience coming from the confessional. So they know the difficult situations of families from the confessions!! What experts they are!!
Deborah says: It was kind of "the king has no clothes"moment, and one had to feel a bit sorry for the fellows.
Another interesting moment was given by the question of an African journalist: Homosexuality and re-married couples are Western problems. We in Africa have others like Polygamy. That reminded me of a situation years ago in Africa, when an African bishop told us: There are no homosexuals in Africa.
My personal summary of the briefing is the following: they are trying to calm the fundamentalists, to lull them, to declare again and again that they are all within the doctrinal teaching and so on. They say they only want to change the kind of pastoral care. But they are not stupid. They know that the changing of the practice leads directly to the changing of the theory (the doctrine). And my experience is that the kind of pastoral care had already changed in the past years. Therefore it is now important to adapt the doctrine.
We will see what happens.
In the evening there was a press conference of the German Synod members. Christian was invited and Deborah too. Gudrun Sailer from Radio Vatican asked if the panel thought the Synod process should be modernized since only 2/3rds voted (male celebates) and 1/3 which includes women do not vote. Cardinal Marx and Bischof Bode suggested the process could and should be changed and  that women should have greater decision making roles at the synod and in the church (see Deborahs blog).
It is now clear that all the German delegates will be in the same discussion group. We are not sure what that will indicate. Will the different meanings (Kaspar, Marx, Müller…) be neutralized, is it because the renewal opinions should not be brought into other groups – or do they want to have the whole discussion here in the German group, should the German group handle it all out?
I enjoy it very much that at the end of the day we sit together and exchange our opinions about the happenings of the day. So many thoughts and feelings wide our individual one's. What a gift.
Best wishes
Martha
Details

Category: Synod Diary 2015
Dear Friends,
Here is our news and reflection on Sunday, 4th October, in Rome.
At ten the big opening ceremony started in St. Peter's. While Renate and I went to St. Peter's square to look at the big electronic billboards which broadcasted the Eucharist to those outside, Christian tried to get a German translation on his PC. That did not really work. So Renate went to Sala Stampa to get a written translation of the Pope's homily.
We were quite happy with what Francis said. He started with the tragedy of loneliness, "the drama of solitude" he called it (he did not mention the lonely priests) and mentioned the many tragedies of our globalized world. "Our experience today" he said "is, in some way, like that of Adam: so much power and at the same time so much loneliness and vulnerability. Therefore the love between man and woman is so important. God did not create us to live in sorrow or to be alone. A never ending love: what a gift of God!"  (We noted he said nothing about celibacy.)
"What therefore God has joined together, let no man put asunder" (Mk 10:9). He explained what it means for the Church to be called to carry out her mission in fidelity, truth and love:
Fidelity means the defending of the unity and indissolubility of the conjugal bond as a sign of God's grace. Truth protects the fruitful love from turning into selfishness. Love and charity mean not to point a finger in judgement of others. The Church has the duty to seek out and care for hurt couples with the balm of acceptance and mercy, "to be a field hospital with doors wide open".
For me it was an exciting example of faithfulness and loyalty to the Church's teaching – and at the same time an intense appeal not to punish but to help. He mentioned also the former popes to underline his opinion – how clever! I am really a fan of his!
At noon Christian had a telephone-interview with Deutschland Radio Kultur.
The afternoon seemed to be a real holiday to all, even to the journalists. So we decided to have a little walk: we went to Villa Borghese, the big park, enjoyed Italian ice cream and espresso.  Then we went in search of the "Martin Luther Square" near the Colosseum. Finally, after so many years, the great (excommunicated) reformer has got a place in Rome!
In the evening we met Kate McElwee from WOW, Susanne Birke from the very new Swiss "Global Network of Rainbow Catholics" and – hot foot from the USA – Deborah Rose-Milavec (FutureChurch). Also Theo Dirke (WDR) came again and we all discussed a helpful procedure to install a "Women's commission" for the Pope, a kind of W8 (Women's Eight) to advise him on women's issues. Where will we find allies?
As always we enjoyed pizza, noodles, wine and Limoncello.
Eat, pray, love – there is great joy being among the community of Reformers! 
Martha