This website is undergoing refurbishment.
We apologise for any inconvenience during your visit.
Synod Diary 2015
Details

Category: Synod Diary 2015
Christian writes: 
The first week of the Synod is over. The 13 small groups (Circoli Minori) have met since Tuesday afternoon for deeper discussions of the first part of the Lineamenta.
The Holy See Press office released the Circuli Minores membership list on paper, but it did not seem to be published online. So Deborah just before she left for her pilgrimage to Greece, made a list of all the participants in the English speaking and German speaking groups . The French, Italian and Spanish groups will be listed in her next post. 
Friday morning, the results of the work in the Circoli Minori were presented in a plenary session in the Synod Hall and published at noon in the daily press conference and on the Internet: www.news.va/en/news/278661 (OR http://press.vatican.va/content/salastampa/en/bollettino/pubblico/2015/10/09/0771/01657.html) Of particular interest are probably the texts Anglicus "C", Anglicus "D", Germanicus. Ludwig Ring-Eifel, editor-in-chief of the Catholic German news agency KNA, headlined his report "The Bishops follow the Pope" (www.katholisch.de/aktuelles/aktuelle-artikel/die-bischofe-folgen-dem-papst). That is exactly what we reform groups have been demanding for this Synod.
On Friday morning I had the privilege of watching the arrival of the Synod participants in the Synod Hall and attending Morning Prayer in the press box. It was most interesting to observe how easy and yet with sovereignty Pope Francis moved among the participants and related to them in a very friendly manner.
Different to Synods before, this Synod provides much more time for discussion in small groups which, in total, are to meet for 40 hours. However, five days in there is – intentionally? – lack of clarity about the procedure and the task of the synod as an whole. Open-minded Cardinal Luis Antonio Tagle from Manila/ Philippines defended the process of the work and the apparent confusion at a press briefing on Friday. He said a new method of discussion was being tried at this Synod, and that "definitely it has caused … a bit of confusion." "But it's good to be confused once in a while," said the cardinal, laughing. "If things are always clear, then we might not be in real life anymore." The Philippine cardinal also said that it is still unknown whether the Synod will create its own final document, or simply provide some sort of advice to Francis (http://ncronline.org/news/vatican/synod-bishops-express-confusion-group-reports-cardinal-calls-it-healthy).
On Saturday "his Eminence Beatitude Baselios Cleemis Thottunkal, President of the Indian Bishops Conference and head of the Syro-Malankara Catholic Church" was a guest at the daily press briefing. You can find his statement and many other useful information on the website www.news.va. But that is only the Vatican's view and it is good also to get more open minded information from e.g. the National Catholic Reporter (http://ncronline.org). But there are also a lot of critical or even hostile websites to the Synod, e.g. www.lifesitenews.com (with headlines like "Our youth desperately need clarity, but Pope Francis' actions are creating confusion" and "Leading African cardinal critiques Vatican spokesman Fr. Rosica") and www.churchmilitant.com, attacking Vatican press officers and other journalists. Against the Synod rules the Polish Bishop's conference posted on their website the summaries of statements in the Synod hall and so had to delete them after having been criticised for that by Card. Baldisseri, Secretary of the Synod (http://blog.radiovatikan.de/der-pressebalkon).
The German speaking group includes six cardinals, different personalities with sometimes opposing positions: Gerhard Ludwig Müller (Prefect of the CDF), Kurt Koch (Prefect of Ecumenism, from Switzerland), Walter Kasper (emeritus Prefect of Ecumenism), Reinhard Marx (Head of the German Bishops' Conference), Audrys Backis (Lithuania), Christoph Schoenborn (Head of the Austrian Bishops' Conference). Unexpectedly they are having a fruitful discussion, as members of the German group told me on Friday evening when I approached them with ease as they came from the Synod Hall. But the most controversial issues, for example, regarding the indissolubility of sacramental marriage, are on the agenda for the second and third week of the Synod. So I'm thinking about sending out our appeal to the Synod fathers again next week.
Rome and the area around St. Peter's Basilica is like a village. Opposite to my accommodation run by Sisters there are the two restaurants where all the German speaking media people meet. So I have been in contact with almost every German speaking journalist here in Rome during my stay and we were able to discuss all aspects of hope for the Synod. The Austrian TV interviewed me on Saturday. The German journal Publik-Forum contacted me several times and reported about our appeal to the Synod fathers (www.publik-forum.de/Religion-Kirchen/wir-unterstuetzen-den-papst ). On the other side of St. Peter's Square, in Borge Pio, are to be found more English-speaking journalists and prelates. On Friday night I was invited there to a very interesting press briefing by the Association of Catholic Priests US (AUSCP) www.uscatholicpriests.org/. There I met old friends and got to know new people for networking for reform.
When you come to Rome you must visit the churchyard in Campo Santo Teutonico. Inside the Vatican and next to the Aula Paul VI it is extraterritorial ground and belongs to a fraternity of lay men and women founded in the 15 century (www.vatican.va/various/teutonico/index.htm). I attended their Mass, spoke to the rector and visited a very fine temporary exhibition about the Second Vatican Council that was compiled in Germany two years ago. I proposed to the Rector that this exhibition and the content-rich catalog should be made available in other languages.
On Friday Deborah Rose-Milavec set off to lead a pilgrimage to Greece for the next 10 days but will be back in Rome on October 18th. My wife Renate and I will now go to the Sunday Angelus with Pope Francis and will leave this evening but I will come back on October 20th for the final days of the synod.
Best wishes from Rome
Christian (and Renate)
Details

Category: Synod Diary 2015
From Christian
Today I have been answering a number of questions from journalists via email and telephone. Their main interest is the expectation of the reform movements for the synod.

There was the daily international press conference followed by meeting of German journalists with Father Hagenkord from Vatican Radio: African bishop from Ghana, bishop from Iraq and cardinal from Ancona, Italy; see Deborah's blog

I had a short talk with a journalist from the Irish Times (that also publicised IMWAC'S appeal to the Synod Fathers): still very hard to say where the Synod will be going. He knows our Brendan Butler (We Are Church – Ireland) very well.

There was another interesting meeting with a very famous journalist for religious affairs from Die Zeit ( an important German weekly paper) who is a very good source also for our networking with Church officials and other media people.

Finally our accommodation sorted out its WIFI problems and so now Christian is in good contact with Rene Reid and Catholic Church Reform International will also now support our appeal. Good news indeed!

In the evening we met with young female journalists from Vatican Radio and other media – also very impressed by Pope Francis and pleased with very direct and easy-going contact with participants of the Synod;

It is said by many here that the German Synod group seems to be willing to work together and not against each other

A lot of very informative exchange with the other journalists happens here in a very "casual" style, having coffee together or a meal (at our own expenses)

In Publik Forum yesterday there was an interview with Martha Heizer, Sabine Demel (Canonist) und Hubert Wolf (Church historian) (http://www.publik-forum.de/Religion-Kirchen/der-papst-muss-liefern)

I am trying to get people interested in having Gerhard Mester's cartoons on Pope Francis published in the US (in English) and in Italian.

Once again I recommend a visit to Deborah's excellent blog for more news of the day.

With friendly greetings

Christian

Deb-Rose Milavek (FutureChurch)
Details

Category: Synod Diary 2015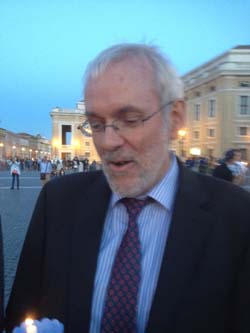 Christian writes:
In the press conference Synod fathers from English, French and Spanish speaking groups reported – main topic: finding a language that will be understood by the people and is positive and welcoming (see Deborah's blog.)
We met Luigi Sandri from Noi Siama Chiesa for dinner. Because he is attending a conference on non-Church topics in northern Italy, cannot attend the press conferences on the Synod this week. He pointed out to us the flats of Card. Müller and Sarah (very conservative, from Africa) just across from St Peter's Square and also the restaurant "Al Passetto" (Da Roberto) on Borgo Pio where the Italian journalists and bishops meet.
I had a short conversation with Vaticanisti Marco Politi who has just come back from the USA and is off to Belgium to promote his new book on Pope Francis and his opponents in the Curia
Deborah Rose Milavec is working closely with IMWAC in watching the Synod.  Please visit https://synodwatch.wordpress.com/2015/10/08/170/ for more news of the day.