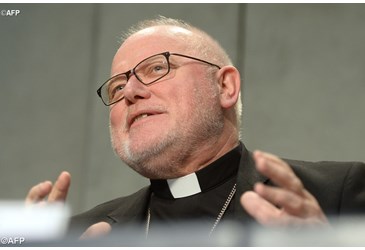 Christian writes,
Time is running out – for me and for the Synod. Today (Wednesday afternoon) the preparatory group met for the "Council 50" conference, November 20-22 in Rome but I had to come late because of the daily press briefing in Sala Stampa. Besides that all I have to prepare the press conference We are Church Germany will present on Friday at noon in Germany. It is a (good or bad?) coincidence that we had arranged our national meeting "20 years We are Church Germany" before we knew the date of the Synod. So I will have to fly to Frankfurt very, very early on Friday morning.
Today's press briefing was really interesting and important. All the seats in Sala Stampa were taken, 25 TV cameras present. This because of two reasons. Firstly, the rumour of a newspaper from Bologna about a severe illness of Pope Francis Father Lombardi strongly denied. It seems that conservative elements try every trick to weaken the position of Pope Francis. The second reason was: Cardinal Reinhard Marx, chair of the German and of the European Bishop's Conferences, spoke today about the results in the German speaking language group ("circulo minori"). He wanted to talk in his mother tongue but because of lack of interpreters he had to switch to English. That was not an easy task for him especially with this very delicate topics. I think it is a great signal and was intended to be that this group with 6 Cardinals with very different positions before the Synod (Gerhard Ludwig Müller (Prefect of the CDF), Kurt Koch (Prefect of Ecumenism, from Switzerland), Walter Kasper (emeritus Prefect of Ecumenism), Reinhard Marx (Head of the German Bishops' Conference), Audrys Backis (Lithuania), Christoph Schoenborn (Head of the Austrian Bishops' Conference)) produced 3 Relationes and all of them were unanimous. Was that the "The German miracle" as Deborah Rose-Milavec wrote in her blog? Would that solve all the theological problems and all the contradictions of the traditional doctrine and a pastoral approach? Yes and No. I think it is a step forward when Card. Marx is talking about "making theology" and so on. Actually Cardinal Marx is the head of my diocese "Muenchen and Freising" in Bavaria. Because time is running out for me I advise to read all the details of Wednesday press briefing in Deb's blog:
https://synodwatch.wordpress.com/2015/10/22/the-german-miracle-no-name-calling-and-a-question-about-how-women-were-treated-inside-the-synod/
Time is also running out for the Synod. Will it ever be possible to come to final "prepositiones" of the Synod until Saturday? I think everything will be a compromise and many of the Synod members will go home partly disappointed. One of our theological advisers in Germany made a quick but very helpful summary of ALL 39 RELATIONES. But translation is – by intension – a permanent problem in this Synod. The 39 relationes and many other important documents were not translated. Our summary is in German (www.wir-sind-kirche.de/files/2424_Relationes_Sichtung.docx) but it will give you a first impression:
- In the last week 10 groups didn't mention homosexuality at all.
- Only 1 group Hibericus A is in favour of spending the sacraments to divorces remarried.
- In general all the relations are using a positive and nice language but there is a general lack of clear and strong proposals.
Pope Francis presented his vision of a Church of mercy so often during the last year. The Appeal of international reform movements asked the Synod Fathers in Rome before and during the Synod: "Follow Pope Francis' way of dialogue and reform!" But to my mind until now the reformers are much too silent and too reluctant and they don't want to use tricks as the fundamentalist do. Pope Francis has made clear that this Synod is working "cum Petro et sub Petro". So we all wait what Francis will say and do at the end.