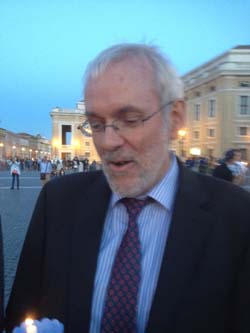 Christian writes:
In the press conference Synod fathers from English, French and Spanish speaking groups reported – main topic: finding a language that will be understood by the people and is positive and welcoming (see Deborah's blog.)
We met Luigi Sandri from Noi Siama Chiesa for dinner. Because he is attending a conference on non-Church topics in northern Italy, cannot attend the press conferences on the Synod this week. He pointed out to us the flats of Card. Müller and Sarah (very conservative, from Africa) just across from St Peter's Square and also the restaurant "Al Passetto" (Da Roberto) on Borgo Pio where the Italian journalists and bishops meet.
I had a short conversation with Vaticanisti Marco Politi who has just come back from the USA and is off to Belgium to promote his new book on Pope Francis and his opponents in the Curia
Deborah Rose Milavec is working closely with IMWAC in watching the Synod.  Please visit https://synodwatch.wordpress.com/2015/10/08/170/ for more news of the day.