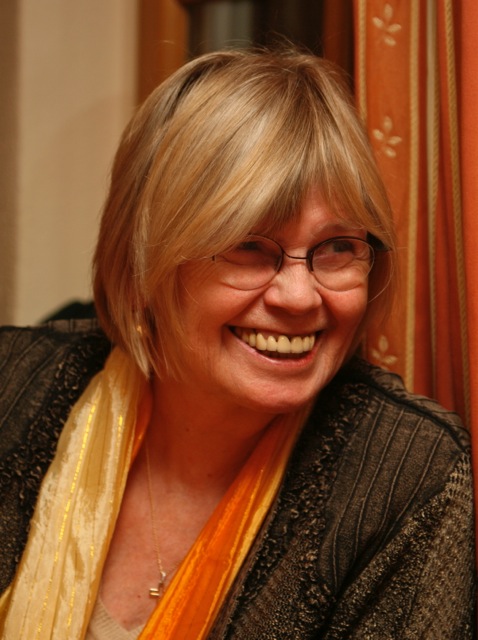 From Martha,
Christian started the day with an interview for a famous German private television company (RTL).
The Press Conference on Tuesday was a quite exciting one, it was a bit boring at the start but turned out to be very encouraging. For the second time I asked for a guest's permission to take part and was warned that I as a guest am not allowed to ask a question. That was a pity because I wanted to do so ("At least 50% of family members are female. Where are the voting women?"). So again I had to be a well-behaved woman in the church, being quiet and listening to men J.
Fr. Lombardi started with an overview of 47 statements made in the Synod Hall in the morning and then asked the members of the panel to do the same, in order to complete what he possibly had forgotten. What we heard at the beginning was an impressing list of issues concerning families, wide-ranging but not really new.
But the little sensations came suddenly. [For the following I quote Patrick B. Craine (LifeSiteNews) https://www.lifesitenews.com/opinion/at-tuesdays-synod-briefing-catholic-doctrine-was-apparently-an-open-questio ]
 "Father Rosica pointed to a number of reforms that Synod fathers have been promoting, in particular: a change in language regarding sinful situations, a wide use of general absolution for the Sacrament of Reconciliation, and the allowance of regional solutions to the question of Communion for the divorced and remarried. Homosexuality, in fact, was the main example Father Rosica used in discussing the language issue, insisting we should never say we "pity gay persons."
"There must be an end to exclusionary language and a strong emphasis on embracing reality as it is. We should not be afraid of new and complex situations," he said.
On the question of the divorced and remarried, he said, "what is needed is not necessarily a universal solution to complex problems. But discussions in small groups and discussions in regional, national, and continental groupings to talk about the solutions to the different areas, the different problems which are not necessarily the same throughout the world."
In his report yesterday morning, Erdo maintained that the Church's practice is an "intrinsic demand" of the sacrament of marriage that is essential to "the Church's witness," and not an "arbitrary prohibition." To admit remarried divorcees to Communion without repentance would oppose the Church's "fidelity to the indissolubility of marriage," he said.
Today at the press briefing, however, Archbishop Celli told reporters asking about the issue that "it is an open question." Commenting specifically on Erdo's report, Celli said, "We can't say everything was closed by the report of yesterday morning."
Later, Archbishop Durocher also suggested the question was up for debate when asked if the matter pertained to Church discipline – which could potentially change – or doctrine, which is fixed.
"To be quite honest, there might be differences of opinion on that," he said. "Let's be honest. Is that a question of doctrine or is that a question of discipline? I think that's probably going to be one of the questions that will be debated in the small groups."
"If you want doctrine, go read Denzinger," he added.
Archbishop Durocher simultaneously praised and dismissed Cardinal Erdo's report by arguing that while it was a "beautiful and classical presentation of the Church's teaching," his approach needed to be complemented by one that is open to dialogue with the world. The report is "an important piece, but it is one piece," he said.
The archbishop argued that there are two dominant temptations at the Synod. "One reaction is to emphasize what the teaching is, out of fear that as the culture moves away from that vision, our own understanding is diluted. The other fear is that we lose contact with our culture and that we close in on ourselves," he said. "We do not want to get into a Ghetto."
A German journalist turned to me and whispered in my ear: "Rosica and Durocher rescued the Synod!" A bit early for such a sentence but that was our feeling.
Fr. Manuel Dorantes added a nice episode to all the reports about the morning in the Synod hall: a three months old baby began to cry. What a new experience to a Synod!
After the press conference Christian attended the a meeting with German journalists and the head of German department of Radio Vatican, Father Bernd Hagenkord.
It was a very long press conference: started at 1p.m. and ended at nearly 3 p.m. So I had to hurry to my next rendezvous with the boss of Austrian broadcasting in Rome. She asked me about Caramsa (the homosexual theologian in the CDF) and told me that the Austrians are more interested in this affair than in the beginning of the Synod. Nobody knows already where the Synod will go, so the Austrians seem to wait.
Deborah Rose-Milavec accompanied me and after the interview we finally had some food together. We had then two very special hours together, speaking about Holy Mary and our mothers and the very hopeful experiences that came out of the sadness of their deaths. Two hours far away from church reform and very inside our faith and our hope!
Christian and Renate had a little walk meanwhile ("I cannot sit the whole day. I need some fresh air!") They met one of the 17 couples taking part in the synod and had a very open and encouraging talk with them. They were just on their way to join the first of the Circuli minori, the working groups. As I told you already the German language group seems to be a very special one, all cocks on one muck hill, as Luther pointed it.
Then I had to do my packing. A last supper with Christian and Renate - and in the early morning starting home.
Thank you all for allowing me to be in Rome!
Martha