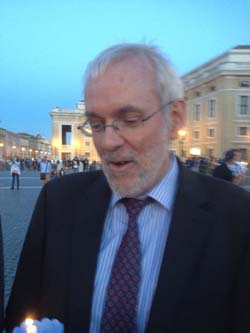 from Christian
This is my last day during this Synod that I watched during its first week of uncertainty how to start and during the last three days of uncertainty what will be the visible success of this worldwide meeting. As you know tomorrow (Friday) very early I will fly back to Germany to report from Rome at our press conference at noon in Frankfurt and later on at the national convention "20 years We Are Church Germany". So I will not be in Rome for the weekend but will have to comment on the results (or non-results?) of the Synod from the perspective of my home country. That is not too bad, isn't it?
Talking about Germany: The German speaking group seemed as if they had opened up new ways in line with the tradition of Saint Thomas Aquinas, the post-synodal letter "Familiaris consortio" of John Paul II., the moral teacher Bernhard Häring and the present pastoral needs. The fact that this group that combined very controversial positions voted unanimously is remarkable. But it's a great pity that the other groups just ignored "The German miracle". (Text of German proposal for Communion for remarried at synod: http://ncronline.org/news/vatican/text-german-proposal-communion-remarried-synod). So everybody here in Rome is curious what will be written in the "Relatio finales", that is the summarised proposal of the Synod to the Pope, and what Pope Francis will answer an Saturday.
If I would have to summarise the efforts of these two Synods and the time between very shortly:
"We don't change any doctrine" was a kind of mantra for those who are too afraid to change anything in our church.
Lack of families as "experts of real life", and especially lack of women in the Synod hall (http://ncronline.org/news/vatican/us-sister-auditor-synod-shows-cultural-divide-between-bishops-laypeople).
Lack of expert theologians (professors) who could help the Magisterium (Bishops and Cardinals) to find understandable explanations for the development of theology.
Lack of courage in the working groups "circuli minori" to look deeper at "problems" like homosexuality and propose really new ideas in many fields.
Lack of space in the seats in the Synod hall. If you can't move physically it is hard to move your brain.
Lack of translations of important documents.
But this sounds far too negative.
There was/is a process of learning how to listen and dialogue.
There was/is a process of learning, especially for the clerics, about the "real" life and conflicts of families.
There was/is a process of learning about the diversity of our church and it's sexual teaching in different parts of the world.
There was and hopefully continue a practice to become tolerant to others. (Unfortunately not all the Cardinals learned this lesson until now.)
Reading and listening to the speeches, homilies and addresses of Pope Francis I'm still convinced that he wants substantial changes in many ways. But he is using the soft and spiritual way: He is trying to change the mentality first before he changes church law. That is a great chance for real changes, but it is also a risk that he might fail.
In the afternoon I had several interviews about the outcome of the Synod and I also had to coordinate the media work for the weekend at home. So I only shortly could join our task force working very hard in Valentino's place for the Council 50-project. I ended my last day with dinner at trattoria "La Vittorio" where – just by coincidence - I met people from the city of our national convention in Germany where I will be tomorrow. And they even told me that they have been active at the start of We are Church 20 years ago.
With Pope Francis things are getting better but there is still a long way to go to achieve real changes in the line of the Gospel and the Second Vatican Council.