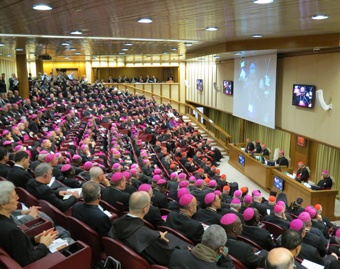 At the conclusion of the III Extraordinary General Assembly of the Synod of Bishops, celebrated in 2014 to treat the topic, The Pastoral Challenges of the Family in the Context of Evangelization, Pope Francis decided to make public theRelatio Synodi, the document which concluded the synod's work. At the same time, the Holy Father indicated that this document would be the Lineamenta for the XIV Ordinary General Assembly to take place from 4 to 25 October 2015 to treat the topic, The Vocation and Mission of the Family in the Church and Contemporary World.
The Relatio Synodi, which is sent as the Lineamenta, concludes in the following words: "These proposed reflections, the fruit of the synodal work that took place in great freedom and with a spirit of reciprocal listening, are intended to raise questions and indicate points of view that will later be developed and clarified through reflection in the local Churches in the intervening year leading to the XIV Ordinary General Assembly of the Synod of Bishops" (Relatio Synodi, n. 62)
The Lineamenta has a series of questions aimed at knowing how the document is received and to generate an in-depth examination of the work initiated during the Extraordinary Assembly. It is a matter of re-thinking "with renewed freshness and enthusiasm, what revelation, transmitted in the Church's faith, tells us about the beauty, the role and the dignity of the family" (Relatio Synodi, n. 4). From this vantage point, we have "one year to mature, with true spiritual discernment, the proposed ideas and to find concrete solutions to so many difficulties and innumerable challenges that families must confront" (Pope Francis, Concluding Discourse, 18 October 2014). The results of this consultation, together with the Relatio Synodi, will serve as the basis for the Instrumentum laboris of the XIV Ordinary General Assembly of 2015.
For this purpose, the episcopal conferences are asked to choose a suitable manner of involving all components of the particular churches and academic institutions, organizations, lay movements and other ecclesial associations.
Read the Lineamenta   [English]  [Italian]  [French]  [German] [Spanish] [Portuguese]