South Africa
For all the latest news please visit the website of We Are All Church - South Africa
IMWAC Council members are able to receive the latest reports by logging in.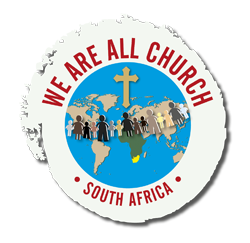 In his 20th August letter 'To the People of God' on the abuse crisis, Pope Francis calls for "every one of the baptised to feel involved in the ecclesial and social change that we so greatly need. This change calls for a personal and communal conversion".
We Are All Church, a movement of Catholics in South Africa (WAACSA) echoes this and repeats its long-standing call for a radical renewal in the life of the Church. Two roots of sexual abuse named by Pope Francis are a culture of fear and silence, and clericalism, both sustained by the abuse of power embedded in Church structures. To eradicate these, and for our Church to undergo conversion, open dialogue and co-responsibility between laity and clergy are required.
To know more about WAACSA, or to contact us, go to: www.weareallchurch.co.za.
Where the Spirit is, there is freedom
(2Cor 3:17)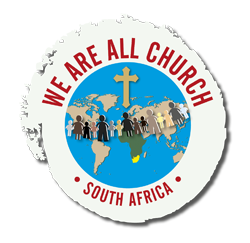 WE ARE ALL CHURCH is a movement of Catholics in South Africa who are committed to the Gospel message, and the ongoing renewal of the Church initiated by the Second Vatican Council.
OUR VISION is of a Church of love, mercy and justice in which the voices of all its members can be heard and valued in a spirit of co-responsibility, and which is fully engaged with a changing world.
OUR MISSION is to help strengthen and support the mission of the Church, especially in South Africa and in our local churches, through promoting dialogue and empowering lay people in particular to take up more responsible and informed roles as evangelising Christians
OUR AIMS
To promote open dialogue about contemporary theological and pastoral issues and concerns especially those that arise from lay perspectives
To support primacy of conscience and the need for questioning and dialogue
To promote a culture within our Church communities which will enable women and men equally to play a more active part and take up appropriate leadership roles in the Church's mission
To promote a more inclusive Church and help Church communities to become "a place for all" where people who feel marginalised for whatever reason might be welcomed and loved
To study the gospel message to discern how to live it in our own times and contexts
To continually deepen our own personal encounters with Jesus Christ, in community with others
ABOUT WAAC (SA)
Our motto is Archbishop Denis Hurley's motto: "Ubi spiritus, ibi libertas" (2 Cor 3:17).
Our Spiritual Director is Fr Larry Kaufmann CssR
National Coordinators: Brian Robertson (

This email address is being protected from spambots. You need JavaScript enabled to view it.

) and Francoise Robertson (

This email address is being protected from spambots. You need JavaScript enabled to view it.

)
Gauteng Coordinator: Douglas Irvine (

This email address is being protected from spambots. You need JavaScript enabled to view it.

)
KwaZulu-Natal Coordinator: MervynPollitt (

This email address is being protected from spambots. You need JavaScript enabled to view it.

)
Western Cape Coordinator: Peter Soal (

This email address is being protected from spambots. You need JavaScript enabled to view it.

)
Website: www.weareallchurch.co.za
WAACSA is an affiliate of We are Church International, a network of independent groups representing different cultures where Catholic Christians are endeavouring to live out the message of Jesus Christ.