This website is undergoing refurbishment.
We apologise for any inconvenience during your visit.
Italy
Details

Category: Italy
Msgr. Capovilla: a protagonist of the Council. The condolences of We Are Church and of  the International Movement We Are Church
(Google translation)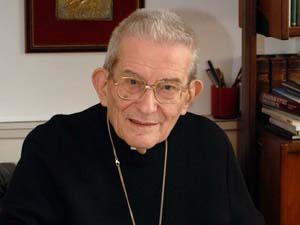 The national spokesman  of Noi Siamo Chiesa Vittorio Bellavite has issued the following statement:
"I participated this morning in Sotto Il Monte at the funeral of Msgr. Loris Capovilla, the secretary of Pope John. I have represented the sincere condolences of Noi Siamo Chiesa, of the International Movement We Are Church (IMWAC), as well as  my personal, having well-known him in recent years.
Say "Capovilla" means  "the Council",  means "Pope John", for long difficult years in the life of the Church. Msgr. Loris was a bishop who always listened, and with real interest, what we thought and what we wrote. As he tended to still defend the ecclesiastical institution and to see, above all, the positives, I can say that he watched with great attention and availability to our analysis and to our proposals. With him we had established a relationship based on a real dialogue.
His positions were explicitly and unreservedly for the Council and for the spirit of the Council of which he was one of the hidden protagonist; It  was clear, conversing with him, his suffering, though never explicit in a direct way, for brakes, which, for decades, have blocked the implementation of the Council. Members of the ecclesial structure, impatient about the situation in the Church, went often  to him for advice. Hence, his obvious joy at the election of Pope Francis, who he considered a new Pope John and that gave him the purple of cardinals that had always been denied for what he represented in the imagination of a large area of ​​the Catholic world. "
Rome, May 30, 2016
Details

Category: Italy
Mons. Capovilla: un protagonista del Concilio. Il cordoglio di Noi Siamo Chiesa e dell'International Movement We Are Church
[ English ]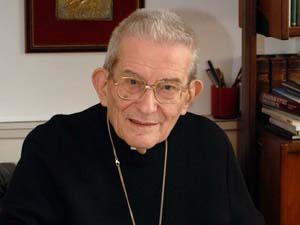 Il coordinatore nazionale di Noi Siamo Chiesa Vittorio Bellavite ha rilasciato la seguente dichiarazione:
"Ho partecipato questa mattina a Sotto Il Monte ai funerali di Mons. Loris Capovilla, il segretario di papa Giovanni. Vi ho rappresentato il sincero cordoglio di tutte e di tutti di Noi Siamo Chiesa , dell'International Movement We Are Church(IMWAC), oltre che quello mio personale, avendolo ben conosciuto negli ultimi anni.
Dire "Capovilla" voleva dire "Concilio", voleva dire "papa Giovanni", per lunghi difficili anni nella vita della Chiesa. Mons. Loris è stato un vescovo che ha sempre ascoltato, e con vero interesse, quanto pensavamo e quanto scrivevamo. Per quanto tendesse a difendere comunque l'istituzione ecclesiastica e a vederne soprattutto gli aspetti positivi, posso dire che egli guardava con grande attenzione e disponibilità alle nostre analisi e alle nostre proposte. Con lui si era stabilito un rapporto fondato su un dialogo vero.
Le sue posizioni erano esplicitamente e senza riserve per il Concilio e per lo spirito del Concilio di cui era stato uno dei protagonisti nascosti; si capiva bene, conversando con lui, la sua sofferenza, anche se mai esplicitata in modo diretto, per i freni che ne hanno bloccato per decenni l'attuazione. A lui chiedevano consiglio e con lui si sfogavano esponenti della struttura ecclesiale insofferenti per la situazione nella Chiesa. Di qui la sua evidente gioia per l'elezione di papa Francesco che egli considerava un nuovo papa Giovanni e che gli concesse quella porpora cardinalizia che gli era sempre stata negata per ciò che egli rappresentava nell'immaginario di una vasta area del mondo cattolico".
Roma, 30 maggio 2016