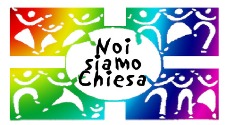 Rome, April 5, 2020
NOI SIAMO CHIESA
[ Italian ]
"Noi Siamo Chiesa", in the attached document, present their reflections on the current situation starting from the observation of the fragility of the human race and the absolute need for adequate public powers of intervention at local and world level. We are all interdependent. The sovereign lock downs show their void of perspective. The current movement of consensus and solidarity cannot hide how many large areas of suffering are present in our country, which are always much smaller than the devastation already underway or imminent in the poor countries of the world. The severe restrictions on the rights under way present the risk of continuing beyond the emergency, and vigilance will have to be rigorous. The exclusion of family members from the bedside of the sick is painful and one wonders whether it is not possible to provide for exceptions in specific cases that are safe with regard to the risks of contagion.
The absence of rites can be an opportunity for the People of God to play a new leading role in the search for ways of praying that they take note of the limits of the monopoly of the clergy in the management of community life. The online masses, a photocopy of the traditional and inevitable ones, reveal how much the assembly is a constitutive element of the Eucharistic celebration. The document goes on to speak of "basic sacramentality" to indicate the possibility of new ways of living the life of faith (blessing of the sick, and particular moments of family or individual life, reconciliation, ecumenical prayers ...) that are well studied and practiced and so that they can then be proposed to normal ecclesial life.
As for traditional popular religiosity, which in our country is well present in emergency situations, it is said that its manifestations "on the one hand must be thought of and lived without distorting the relationship between human history and the presence of God in history, and on the other hand must be profoundly revisited, in the light of the Council, in the line of the Liturgy's attempts to confront the challenges of the contemporary world.
The document concludes by stating that "perhaps a new orientation of associated life, new underlying objectives", a more equitable distribution of resources with an important role for the European Union and "a new awareness of the need for strong global governance based on the global ethics of which Hans Küng speaks" could be possible.