This website is undergoing refurbishment.
We apologise for any inconvenience during your visit.
Ireland
Details

Category: Ireland

PRESS RELEASE from We Are Church (Ireland)
8 APRIL 2016
We are Church Ireland welcomes the publication of  'Amoris Laetitia'  - the reflections of Pope Francis on the recommendations of the 2014 and 2015 Synod of the family. However the Synod recommendations did not reflect the voices of Catholic families who had no deliberative voice throughout the course of both Synods.
While its pastoral outlook and its emphasis on the 'logic of mercy' are very welcome we are disappointed that there are no positive changes for the many divorced and civilly remarried Catholics who are in second relationships.
Details

Category: Ireland
See also We Are Church - Ireland's webpage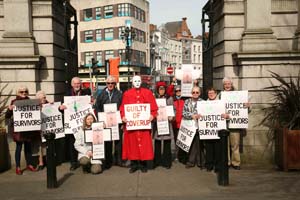 Today, Good Friday, members of 'We are Church Ireland' staged a dramatic presentation on Grafton Street, Dublin 2, calling for 'Justice for Worldwide Survivors of Clerical Child Sex Abuse' and for members of the Catholic Hierarchy involved in the cover-up of these heinous crimes through not reporting them to the civil authorities, to be brought to justice both in the Civil and Church courts. There is ambivalence and no clear direction from the Vatican on the reporting of clerical child sex abuse to civil authorities worldwide.
A training course organised by The Vatican Congregation for Bishops for newly appointed Catholic bishops from around the world held in September 2015, was told that they had no obligation to report abuse charges to civil law enforcement agencies. The Pontifical commission for the Protection of Minors set up by Pope Francis in 2014 had not been invited by the organising Congregation of Bishops to address the new bishops with their alternate view that all bishops had a moral and religious responsibility to report all child sexual abuse charges to the civil authorities.