This website is undergoing refurbishment.
We apologise for any inconvenience during your visit.
Members of the IMWAC Council may have to log in to see all the articles from Germany
Details

Category: Germany
"Unumgänglicher Lernprozess in Rom, notwendige konkrete Umsetzungen vor Ort"
Erste Stellungnahme von Wir sind Kirche zum Abschluss der Jugend-Bischofssynode in Rom
Pressemitteilung München / Rom, 28. Oktober 2018 (16:30 Uhr aktualisiert)
Die KirchenVolksBewegung Wir sind Kirche sieht die heute in Rom zu Ende gegangene 15. Vollversammlung der Bischofssynode als unumgänglichen Lernprozess der Bischöfe. Sie schulden der heutigen Jugend ein sie ebenso ansprechendes wie herausforderndes Angebot der Botschaft Jesu. Das Gelingen dieses Miteinanders wird auch maßgeblich über die Zukunft der Kirche entscheiden.
Trotz der fehlenden Stimmmöglichkeiten haben die 49 meist noch jüngeren Auditores diese Synode inhaltlich und atmosphärisch stark prägen können. Der Brief der jungen Mitglieder der Synode an Papst Franziskus zeigt deren große Bereitschaft, den notwendigen grundlegenden Reformkurs mit aller Kraft zu unterstützen. Die im geschützten Raum der Synode geführten Debatten müssen jetzt in der Weltkirche in aller Freiheit fortgeführt werden.
Wir sind Kirche ermutigt die jungen Menschen und alle kirchlichen Gremien, das vor Ort einzufordern und umzusetzen, was in der Bischofssynode beraten wurde.Denn am Ende werden junge Menschen die Kirche nicht an wohlgesetzten Worten, sondern an konkreten Antworten auf die in Rom zur Sprache gekommenen drängenden Herausforderungen beurteilen. Dazu gehören neben Migration, Digitalisierung, Gerechtigkeit und der Bewahrung der Schöpfung auch die gleichberechtigte Stellung von Mann und Frau, die Anerkennung homosexueller Menschen und Partnerschaften sowie eine wirksame Bekämpfung sexualisierter Gewalt innerhalb und außerhalb der Kirche. Wichtig und notwendig ist aber darüber hinaus auch eine grundlegende Reform der tradierten Theologie und Bibelauslegung, sowie eine Anpassung der Liturgie an das Denken und Fühlen junger Menschen heute.
Enttäuschend ist, dass das Schlussdokument kein klares Schuldeingeständnis für die jahrzehntelange Vertuschung von Missbrauch durch katholische Geistliche enthält. Die Auseinandersetzung um die Verwendung des Begriffs LGBT (Lesbian, Gay, Bisexual und Transgender) im "Instrumentum laboris", dem Arbeitspapier der Synode, hat allerdings die großen kulturellen Diversitäten innerhalb der römisch-katholischen Weltkirche gezeigt, die nur durch eine Weiterentwicklung der gängigen, auf ganz anderen Voraussetzungen und Lebensgewohnheiten basierenden Lehre zu überwinden sein werden.
Die Tatsache, dass alle 167 Abschnitte die erforderliche Zweidrittel-Mehrheit erhielten, kann als Erfolg des synodalen Prozesses gesehen werden, der bereits mit der weltweiten Befragung und der Vorsynode im März 2018 begonnen hat und jetzt unbedingt weiter zu führen ist. Wohl zum ersten Mal traten Papst und Bischöfe bei dieser Synode nicht nur als Verkünder von Botschaften, sondern als Zuhörende auf. Grundsätzlich zu begrüßen ist die Weitung des Begriffs der Berufung, der sich jetzt nicht mehr nur auf Priester und Ordensleute bezieht.
Wir sind Kirche unterstützt das jüngste Votum der deutschsprachigen Ordens-Leiterinnen, die nicht nur das Stimmrecht bei Bischofssynoden, sondern die Zulassung zu allen kirchlichen Ämtern und Diensten für Frauen fordern (> katholisch.de 25.10.2018).
Pressekontakte Wir sind Kirche-Bundesteam: Magnus Lux , Tel: 0176 41266392, E-Mail: This email address is being protected from spambots. You need JavaScript enabled to view it. Christian Weisner, Tel: 0172 5184082, E-Mail: This email address is being protected from spambots. You need JavaScript enabled to view it.
Zuletzt geändert am 28­.10.2018
Details

Category: Germany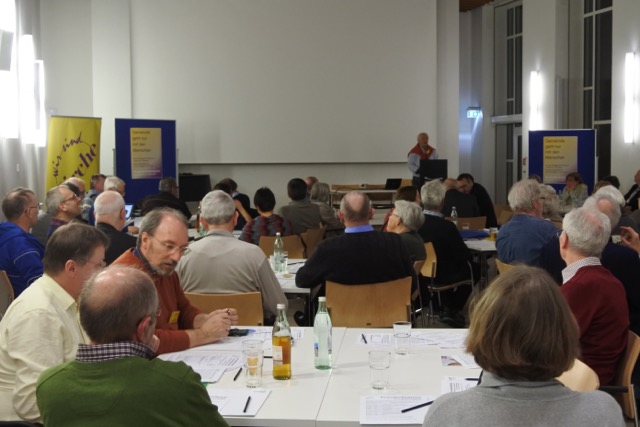 Key points for a new church  - future through community renewal
Call of the ChurchPeopleConferenz "Communities  only work with the people" 10./11. March 2017 in Würzburg
For decades, new pastoral plans and community strategy have been developed over and over again. Always new structural models such as Pastoral Care Units, Pastoral Spaces, etc. were propagated - but all under the premise of leadership by a priest. In view of the current conditions of admission to the priestly ministry and the growing lack of priesthood (58 priestly ordinations in 2015 and 80 in 2016 for the 27 German dioceses), all these paths have entered the impasse.
"We need a rethinking in the pastoral planning," the eleven priests of the Year of Consecration from Cologne write in 1967 in their open letter on the state of the church and the priestly profession. "The previous system has caused the churches to break down before our eyes. Grandparents are in every respect a guaranty: the increasing anonymisation and separation in society are then also encouraged in the church, instead of counteracting it. "
A church, which is not prophetic, builds up barricads for the future itself. To stop the erosion process of ecclesiastical life, a church change urgently needs to be addressed to the message of Jesus from the beginning of the kingdom of God and begins and begins at the level of the church. In the current cultural upheaval, the ChurchPeolpeConference invites all church members to bring the forgotten vision of Jesus of the future of a humanity reconciled in justice alive and to work consistently on a new future of world and society.