| | | |
| --- | --- | --- |
| LGBT Catholics Westminster in St. Peter's Square, following the Papal Audience, 1 March 2017 | Mass at Cardinal Vincent's Titular Church, San Alfonso - the Shrine of Our Lady of Perpetual Succour. | With Fr. Keith Pecklers SJ after Mass at Caravita |
UK News
LGBT Catholics, parents and friends returned home on 5 March 2017 after an inspiring 6 days of pilgrimage to Rome. This 2nd LGBT Catholics Westminster Rome pilgrimage received a warm message from Cardinal Vincent Nichols, Archbishop of Westminster: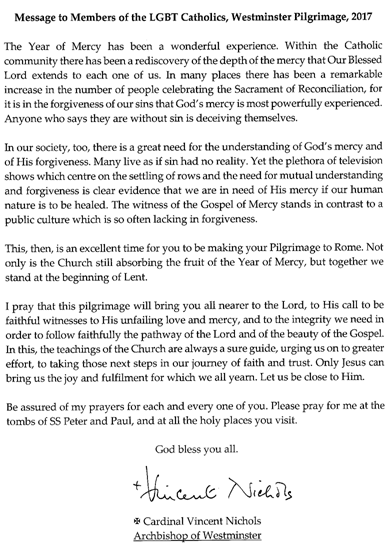 The group was afforded special places at Pope Francis' General Audience in St. Peter's Square on Wednesday 1 March. Later that day, LGBT Catholics were present in Santa Sabina Church for the Papal Mass for Ash Wednesday to mark the beginning of Lent, receiving ashes blessed by Pope Francis.
Ash Wednesday evening saw the pilgrims present at an ecumenical Liturgy of the Word and Blessing of Ashes, presided over by the Archbishop of Canterbury's representative in Rome, Archbishop Sir David Moxon, at the Caravita Oratory - home of English-speaking Catholics in Rome. At this Service, a member of the group was invited to read the Intercessions which included a special intention for the Westminster Diocese LGBT ministry, based at London's Farm Street Jesuit Church. 
Thursday 2 March saw the pilgrims celebrating Mass in the rooms of St. Ignatius of Loyola, founder of the Society of Jesus, at Rome's Church of the Gesù. Friday 3 March, the group received a warm welcome for Mass at the Redemptorist Church of San Alfonso, the titular church of Cardinal Vincent Nichols. Late in the evening, the group gathered with the Younger Adults of Nuova Proposta, a Rome-based LGBT Catholic group, for a time of Gospel reflection and discussion. This group is currently under some pressure from more conservative Church elements in Rome, and the London group assured them of solidarity and prayer.
Saturday 4 March, the group celebrated Morning Prayer at the Church of St. Bartholomew-on-the- Tiber, from where London's ancient church and hospital, St. Bartholomew's Smithfield, was founded. The Rome church has been dedicated to the memory of modern martyrs from all parts of the world and the group's liturgy remembered particularly victims of homophobic and transphobic violence.
The pilgrimage ended with Mass at the Caravita Oratory on Sunday 5 March, when the preacher was the retired Anglican Bishop of Salisbury, David Stancliffe, and once again a member of the Westminster LGBT group was invited to read the Intercessions. Caravita - http://caravita.org/ 
Further details from Martin Pendergast, +44 (0) 20 8986 0807.