This website is undergoing refurbishment.
We apologise for any inconvenience during your visit.
Chile
Details

Category: Chile
Enrique, Somos Iglesia Chile, has alerted us to this video.
Raquel from Somos Iglesia (Spain) offers this commentary for friends who do not speak Spanish.
I guess that Enrique Orellana has chosen this video as a testimony of a nun "living inside the war" that questions the politics of the USA and Europe concerning Syria supporting the opposition to the president.
The video is of a talk given in Spain by a Argentinian Nun who has lived and worked in Aleppo for several years. She says that Syria is not a democratic country but she affirms that the president allows religious freedom and this has led, during years, to a peaceful relationship between Catholics, Christians in general, and Muslims. So she put the focus on the terrorism of ISIS who are very against Christians in Syria and Iraq. They are the main problem. The rest of the talk consists of a description of the everyday life of Catholics in Aleppo under the war between the government and the terrorists.
The Missionary says that the media in Europe and America are not well informed in general and she ask people to read Catholic media instead. 
Details

Category: Chile
We Are Church in Chile has sent this article.
Nos envía este artículo un profesor de sociología de Madrid con esta nota: "Te adjunto el editorial de Ignacio Ramonet en el nº de Diciembre de Le Monde Diplomatique. ¡ Me he quedado de piedra cuando lo he visto en la portada!. La revista más prestigiosa de la izquierda internacionalista." AD.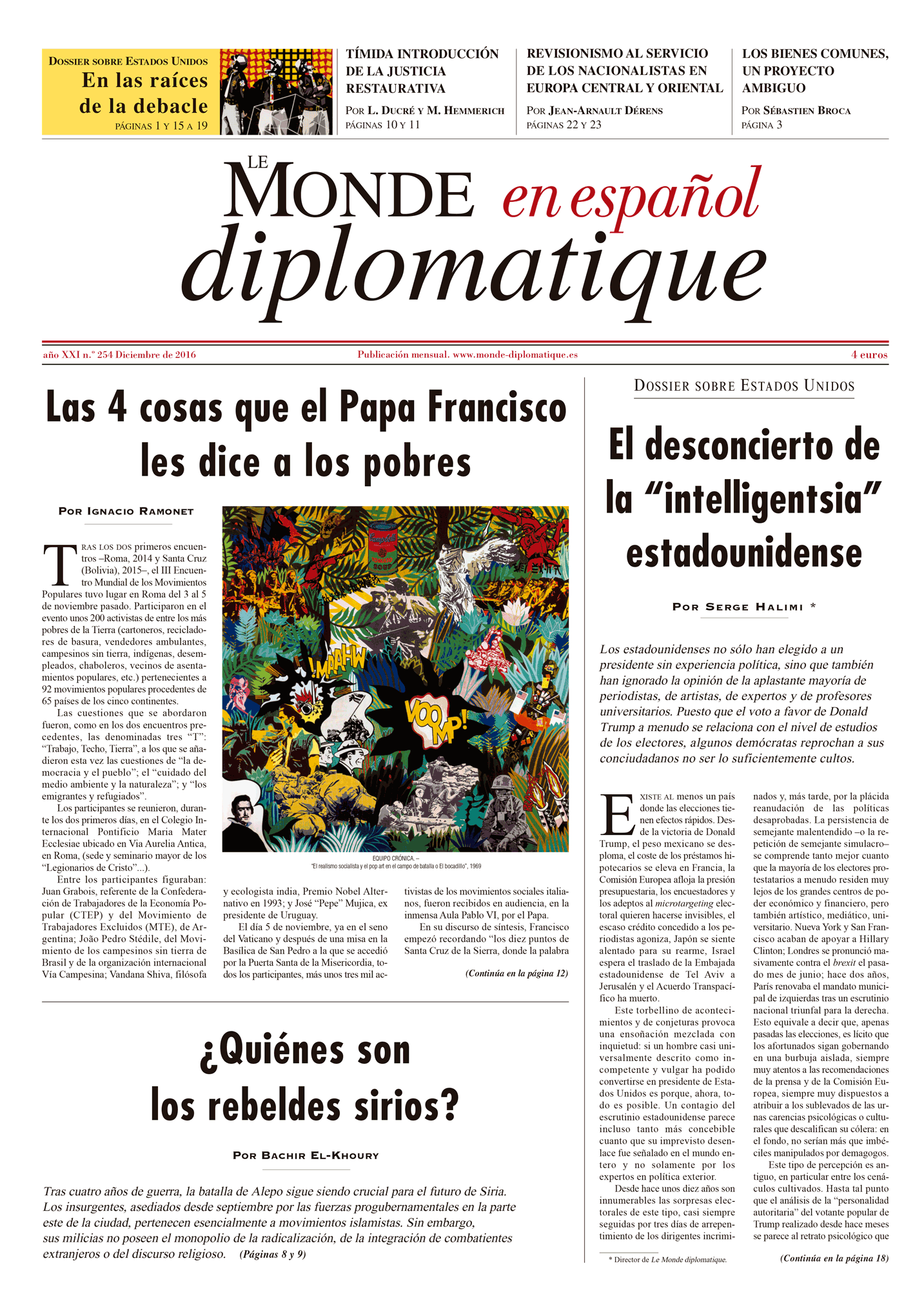 Tras los dos primeros encuentros –Roma, 2014 y Santa Cruz (Bolivia), 2015–, el III Encuentro Mundial de los Movimientos Populares tuvo lugar en Roma del 3 al 5 de noviembre pasado. Participaron en el evento unos 200 activistas de entre los más pobres de la Tierra (cartoneros, recicladores de basura, vendedores ambulantes, campesinos sin tierra, indígenas, desempleados, chaboleros, vecinos de asentamientos populares, etcétera) pertenecientes a 92 movimientos populares procedentes de 65 países de los cinco continentes.
Las cuestiones que se abordaron fueron, como en los dos encuentros precedentes, las denominadas tres "T": "Trabajo, Techo, Tierra", a los que se añadieron esta vez las cuestiones de "la democracia y el pueblo"; el "cuidado del medio ambiente y la naturaleza"; y "los emigrantes y refugiados".

Los participantes se reunieron, durante los dos primeros días, en el Colegio Internacional Pontificio Maria Mater Ecclesiae ubicado en Via Aurelia Antica, en Roma, (sede y seminario mayor de los "Legionarios de Cristo"…).
Entre los participantes figuraban: Juan Grabois, referente de la Confederación de Trabajadores de la Economía Popular (CTEP) y del Movimiento de Trabajadores Excluidos (MTE), de Argentina; João Pedro Stédile, del Movimiento de los campesinos sin tierra de Brasil y de la organización internacional Vía Campesina; Vandana Shiva, filósofa y ecologista india, Premio Nobel Alternativo en 1993; y José "Pepe" Mujica, ex presidente de Uruguay.
Read more: Las 4 cosas que el Papa Francisco les dice a los pobres