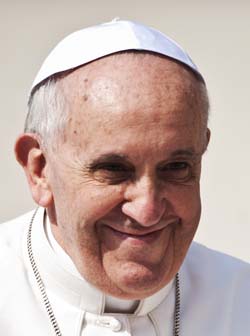 In an interview with the Belgian paper, Tertio, Pope Francis made this comment.  We are grateful to Independent Catholic News for alerting us to this important statement.
The "Synodal Church", let me take this word. The Church is born from the community, it is born from the foundation, it is born from Baptism, and it is organised around a bishop, who brings it together and gives it strength; the bishop who is the successor of the Apostles. This is the Church. But in all the world there are many bishops, many organised Churches, and there is Peter. Therefore either there is a pyramidal Church, in which what Peter says is done, or there is a synodal Church, in which Peter is Peter but he accompanies the Church, he lets her grow, he listens to her, he learns from this reality and goes about harmonising it, discerning what comes from the Church and restoring it to her. The richest experience of all this was that of the last two Synods. There all the bishops of the world were heard, during preparation; all the Churches of the world, the dioceses, worked. All this material was worked on during the first Synod, which gave its results to the Church, and then we returned a second time - the second Synod - to complete all this. And from there Amoris Laetitia emerged. It is interesting to see the rich variety of nuances, typical of the Church. It is unity in diversity. This is synodality.
Do not descend from high to low, but listen to the Churches, harmonise them, discern. And so there is a post-Synodal exhortation, which is Amoris Laetitia, which is the result of two Synods, in which all the Church worked, and which the Pope made his own. It is expressed in a harmonious way. It is interesting that all that it contains [Amoris Laetitia], in the Synod it was approved by more than two thirds of the fathers. And this is a guarantee. A synodal Church means that there is this movement from high to low, high to love. And the same in the dioceses. But there is a Latin phrase, that says that the Churches are always cum Petro et sub Petro. Peter is the guarantor of the unity of the Church. He is the guarantor.
This is the meaning. And it is necessary to progress in synodality, which is one of the things that the Orthodox have conserved. And also the Oriental Catholic Churches. It is a richness of theirs, and I recognise it in the Encyclical.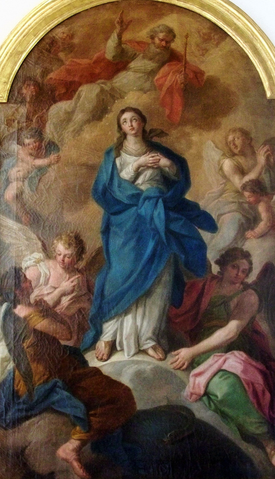 8 December marks the Feast of the Immaculate Conception, a major Holy Day in the Catholic calendar. It commemorates the belief that Mary, the mother of Jesus, was preserved from Original Sin.
In marking this feast, many Catholics will pray the Magnificat, the prayer attributed to Mary on the occasion of the visit to her cousin Elizabeth. In that prayer, Mary praises God for reversing the social order. She proclaims that God
"has scattered the proud in the conceit of their heart.
He has put down the mighty from their thrones,
and has exalted the lowly.
He has filled the hungry with good things,
and the rich He has sent away empty." (Luke 1: 51b-53)
On the Feast of the Immaculate Conception, We Are Church International calls for continued efforts to achieve the Inverted Pyramid model of Church described by Pope Francis in an October 2015 speech. Like the world of Mary and Jesus' time, the Catholic Church clearly needs to reverse the order of power. The Pope, Cardinals and Bishops must see themselves as serving the needs of God's people, rather than as enforcers of dogma. In this way, our Church will realize its true mission. One possible step forward would be to have our bishops elected by the people of each diocese rather than selected by Rome.
###
We Are Church International (IMWAC) founded in Rome in 1996, is a global coalition of national church reform groups. It is committed to the renewal of the Roman Catholic Church based on the Second Vatican Council (1962-1965) and the theological spirit developed from it.
Contact: Marianne Duddy-Burke, This email address is being protected from spambots. You need JavaScript enabled to view it., +1 617 669 7810
A proposito del terzo incontro dei Movimenti Popolari in Vaticano del 2-5 dicembre
"Un clamore sordo si leva da milioni di uomini che domandano ai loro pastori una liberazione che non viene loro da nessuna parte" (conferenza di Medellìn)
"PAPA FRANCESCO, VERO LEADER DELLA SINISTRA?"
Milano, libreria Claudiana 25 novembre 2016
A proposito del terzo incontro mondiale dei movimenti popolari del 2-5 novembre 2016 in Vaticano, durante il quale 174 loro delegati, che rappresentano gli "ultimi" sulla terra, hanno discusso su come cercare di organizzarsi nei confronti del disordine costituito che regola i rapporti nel mondo tra i popoli e le classi sociali. Il 25 novembre scorso ne hanno discusso a Milano Silvano Piccardi di Costituzione e beni comuni, Vittorio Agnoletto, delegato all'incontro, Vittorio Bellavite di Noi Siamo Chiesa. Di seguito una trascrizione dei principali interventi a cura di Angela Colasuonno.
We Are Church in Chile has sent this article.
Nos envía este artículo un profesor de sociología de Madrid con esta nota: "Te adjunto el editorial de Ignacio Ramonet en el nº de Diciembre de Le Monde Diplomatique. ¡ Me he quedado de piedra cuando lo he visto en la portada!. La revista más prestigiosa de la izquierda internacionalista." AD.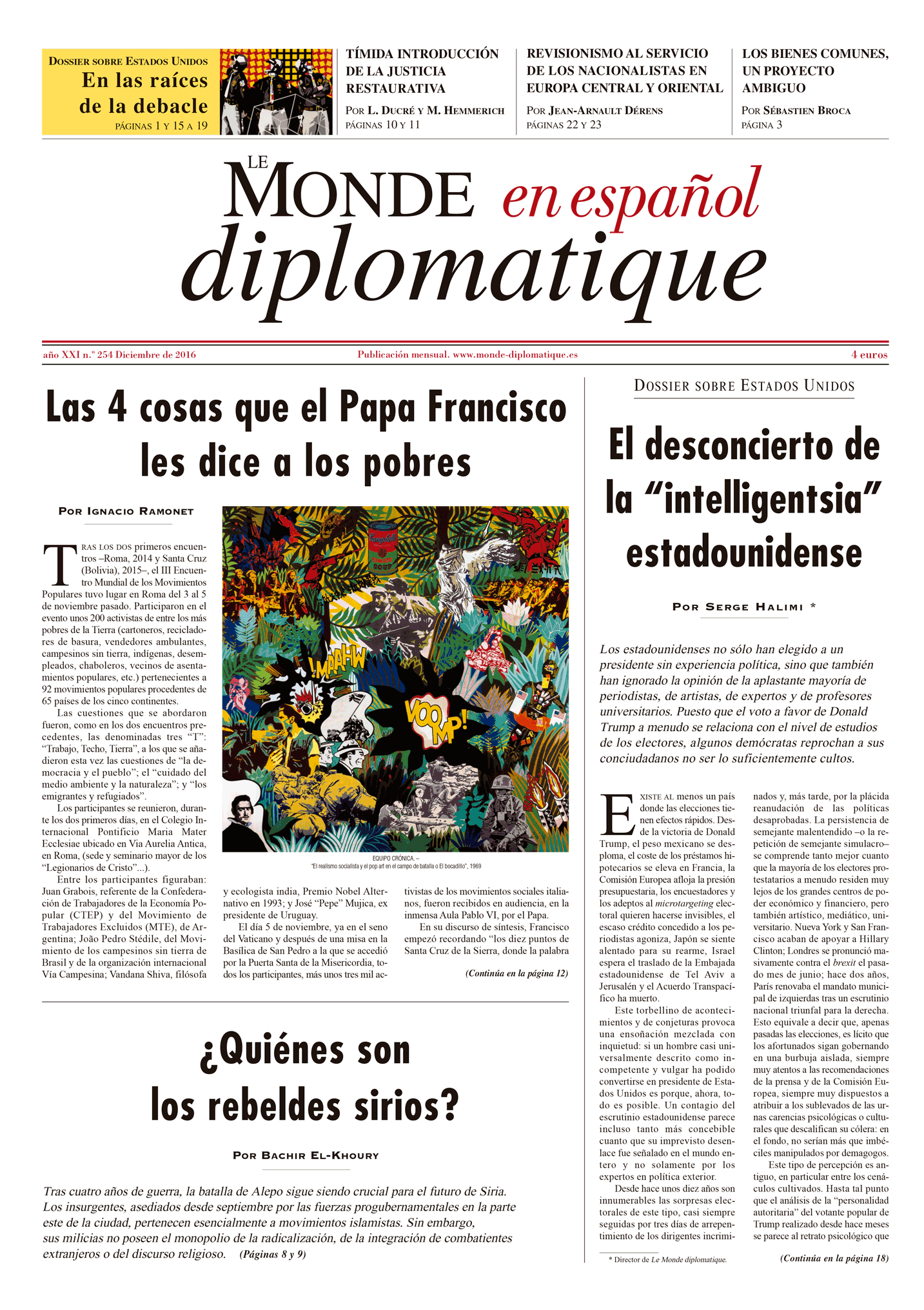 Tras los dos primeros encuentros –Roma, 2014 y Santa Cruz (Bolivia), 2015–, el III Encuentro Mundial de los Movimientos Populares tuvo lugar en Roma del 3 al 5 de noviembre pasado. Participaron en el evento unos 200 activistas de entre los más pobres de la Tierra (cartoneros, recicladores de basura, vendedores ambulantes, campesinos sin tierra, indígenas, desempleados, chaboleros, vecinos de asentamientos populares, etcétera) pertenecientes a 92 movimientos populares procedentes de 65 países de los cinco continentes.
Las cuestiones que se abordaron fueron, como en los dos encuentros precedentes, las denominadas tres "T": "Trabajo, Techo, Tierra", a los que se añadieron esta vez las cuestiones de "la democracia y el pueblo"; el "cuidado del medio ambiente y la naturaleza"; y "los emigrantes y refugiados".

Los participantes se reunieron, durante los dos primeros días, en el Colegio Internacional Pontificio Maria Mater Ecclesiae ubicado en Via Aurelia Antica, en Roma, (sede y seminario mayor de los "Legionarios de Cristo"…).
Entre los participantes figuraban: Juan Grabois, referente de la Confederación de Trabajadores de la Economía Popular (CTEP) y del Movimiento de Trabajadores Excluidos (MTE), de Argentina; João Pedro Stédile, del Movimiento de los campesinos sin tierra de Brasil y de la organización internacional Vía Campesina; Vandana Shiva, filósofa y ecologista india, Premio Nobel Alternativo en 1993; y José "Pepe" Mujica, ex presidente de Uruguay.
FOR IMMEDIATE RELEASE
We Are Church International, which represents Catholics from around the world committed to a just and inclusive Church, is expressing concern about plans for the Synod of Bishops in 2018, which will focus on youth, faith, and vocations.
"We agree with Pope Francis that it is vitally important for the Catholic Church to better understand the needs and perspectives of youth globally," said Sigrid Grabmeier, Chair of We Are Church International. "They are, of course, the future of the Church, and they will be the ones addressing the complex issues facing our world. However, too many young people feel alienated from the Church, or believe it to be irrelevant or even destructive to the things they care about.
"For this Synod to have any impact, it will need to be very different from Synods of the past," Grabmeier continued. "It will not be effective if the bishops are the only participants, and respond to input from questionnaires they and their colleagues answer. This must be a whole Church event. Young people, their parents, grandparents, teachers, and mentors must have a voice in the preparation, and they must be part of the Synod itself. It just will not work for a group of old, celibate men to make decisions on their own."
We Are Church International calls on the Vatican to restructure the Synod so that lay people who are or who work with youth are part of the discussion and decision-making process. "This is the only way that what happens at the upcoming Synod will truly address the needs and potential of our Church," concluded Grabmeier.
###
We Are Church International (IMWAC) founded in Rome in 1996, is a global coalition of national church reform groups. It is committed to the renewal of the Roman Catholic Church based on the Second Vatican Council (1962-1965) and the theological spirit developed from it.
Contact:  Marianne Duddy-Burke, Media Coordinator, +1 617.669-7810, This email address is being protected from spambots. You need JavaScript enabled to view it.