El Festival Internacional de Literatura de Mantua, en Italia, recordó de manera especial el primer aniversario de la visita pastoral del Papa Francisco a Cuba, que tuvo lugar entre el 19 y 22 de septiembre de 2015. Para hablar de la estela que dejó ese viaje histórico y comentar sobre el impacto del pontificado de Jorge Mario Bergoglio, la editora de Cubadebate Rosa Miriam Elizalde dialogó con el fraile dominico Frei Betto, ante un público que abarrotó el Palacio de San Sebastián, en la ciudad lombarda. El encuentro tuvo como título la trase en latín "Extra pauperes nulla salud" ("Fuera de los pobres no hay salvación"). A continuación, reproducimos íntegramente el intercambio.
---
The International Literature Festival of Mantua in Italy specially recalled the first anniversary of Pope Francisco's pastoral visit to Cuba, which took place between 19 and 22 September 2015. To talk about the trail that historical trip left and comment on the impact of the pontificate of Jorge Mario Bergoglio, the editor of Cubadebate Rosa Miriam Elizalde spoke with the Dominican friar Frei Betto, before an audience that crowded into the Palace of San Sebastián, in the Lombard city. The meeting was entitled "Extra pauperes nulla salud" ("Without the poor there is no salvation"). We offer the entire exchange.
Von der Kunst, an der Basis Kirchenzukunft zu gestalten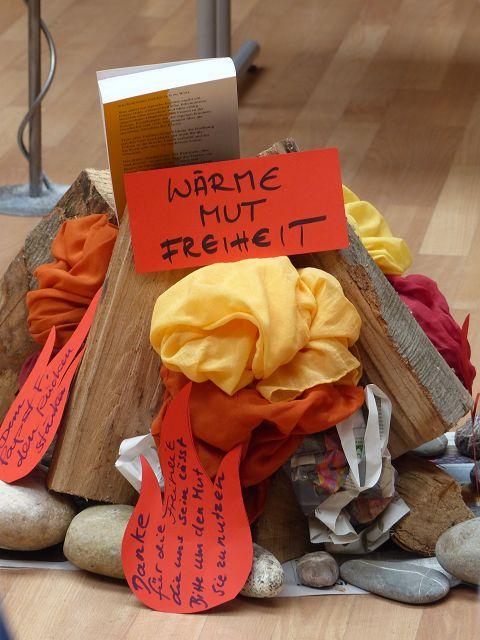 Eine "Feier mit Feuer" wollten wir veranstalten – und es ist gelungen! Die Teilnehmenden an unserem Fest waren nach ihren eigenen Worten "wieder sehr motiviert", "sehr dankbar für alles, was ihr für die Kirche tut", "angesteckt von der Freude, die ihr ausstrahlt", "froh, dass ihr mein Feuer wieder stärker gemacht habt"…Das alles gilt auch umgekehrt: wir vom Vorstand fühlten uns durch die entgegengebrachte Solidarität und Herzlichkeit unterstützt und getragen von unseren Mitgliedern!
Am Beginn erzählte Thomas Plankensteiner, der Initiator des Kirchenvolks-Begehrens vor 20 Jahren, von seiner eigenen Motivation und den Anfängen der Bewegung. "Ohne staatlichen oder kirchlichen Apparat, ohne Handys und soziale Netze, aber mit großer Hilfe der Medien haben wir in kürzester Zeit 1500 Mitarbeiter und Mitarbeiterinnen in ganz Österreich gefunden, die in zwei Wochen 505.000 Unterschriften gesammelt haben." Und er betonte wieder: "Nicht um Modernisierung geht es oder um Liberalisierung, auch nicht um Zeitgeist: es geht um die Evangelisierung der Kirche!"
Enrique, Somos Iglesia Chile, has alerted us to this video.
Raquel from Somos Iglesia (Spain) offers this commentary for friends who do not speak Spanish.
I guess that Enrique Orellana has chosen this video as a testimony of a nun "living inside the war" that questions the politics of the USA and Europe concerning Syria supporting the opposition to the president.
The video is of a talk given in Spain by a Argentinian Nun who has lived and worked in Aleppo for several years. She says that Syria is not a democratic country but she affirms that the president allows religious freedom and this has led, during years, to a peaceful relationship between Catholics, Christians in general, and Muslims. So she put the focus on the terrorism of ISIS who are very against Christians in Syria and Iraq. They are the main problem. The rest of the talk consists of a description of the everyday life of Catholics in Aleppo under the war between the government and the terrorists.
The Missionary says that the media in Europe and America are not well informed in general and she ask people to read Catholic media instead. 
In "Nonviolence: A Style of Politics for Peace," his message for the 50th anniversary of World Peace Day, January 1, 2017, Pope Francis has called for peacebuilding through active nonviolence. He identifies the many communities throughout the world impacted by various forms of violence, and calls on all people to commit to "acknowledge one another as sacred gifts endowed with immense dignity."
We Are Church International endorses this important message, and commits itself and its members around the globe to the practice of nonviolence, community-building, and good stewardship of the earth. We commend our Pope for addressing this critical issue in a way that honors people of all faiths and ways of life.
We wish to underscore that the World Peace Day Message is a historical moment which changes course from much of the past Magisterium of the Church. Pope Francis is on the same wavelength as  the "Appeal to the Catholic Church to recommit to  the centrality of Gospel nonviolence" born from  the Conference of Rome (11-13 avril 2016), which was "an assembly with  people of God from Africa, the Americas, Asia, Europe, the Middle East, and Oceania included lay people, theologians, members of religious congregations, priests, and bishops".
We Are Church International especially notes the portion of Pope Francis' message that acknowledges, "This is also a programme and a challenge for political and religious leaders, the heads of international institutions, and business and media executives: to apply the Beatitudes in the exercise of their respective responsibilities. It is a challenge to build up society, communities and businesses by acting as peacemakers. It is to show mercy by refusing to discard people, harm the environment, or seek to win at any cost. To do so requires 'the willingness to face conflict head on, to resolve it and to make it a link in the chain of a new process'… Active nonviolence is a way of showing that unity is truly more powerful and more fruitful than conflict…Certainly differences can cause frictions. But let us face them constructively and non-violently, so that 'tensions and oppositions can achieve a diversified and life-giving unity,' preserving 'what is valid and useful on both sides'. "
"We call on Pope Francis and other leaders of our Church to apply this message to the governance of our own Church," said Sigrid Grabmeier, Chair of We Are Church International. "Too often, the people of the Church have been discarded or treated with disrespect. Disagreement has been swept under the rug or seen as dangerous, even when it comes from deep love of our faith. We seek the opportunity for dialogue and creative problem-solving as part of peacemaking within our Church."
We Are Church International has urged its members and communities to observe World Day of Peace with prayer, study of active nonviolence, and recommitment to the goals expressed by Pope Francis.
#####
We Are Church International (IMWAC) founded in Rome in 1996, is a global coalition of national church reform groups. It is committed to the renewal of the Roman Catholic Church based on the Second Vatican Council (1962-1965) and the theological spirit developed from it. 
Contact: Marianne Duddy-Burke, This email address is being protected from spambots. You need JavaScript enabled to view it., +1 617 669 7810
December 23, 2016. On 22 December 2016 Pope Francis rebuked the curia for the third year for not all giving their full support to his reforms.
This email address is being protected from spambots. You need JavaScript enabled to view it.Pope Francis said curial "reform is first and foremost a sign of life, of a Church that advances on her pilgrim way, of a Church that is living."
Speaking to members of the Church hierarchy who have resisted his efforts to implement significant changes, the Pope said, "The reform of the Curia is in no way implemented with a change of persons – something that certainly is happening and will continue to happen – but with a conversion in persons.  Permanent formation is not enough; what we need also and above all is permanent conversion and purification.  Without a change of mentality, efforts at practical improvement will be in vain."
"Also of great importance is an enhanced role for women and lay people in the life of the Church and their integration into roles of leadership in the Dicasteries, with particular attention to multiculturalism."
We Are Church supports Pope Francis' reform aims which include an "inverted pyramid" structure for our church. We agree that the Church's focus must return to service of the poor. We encourage Pope Francis to engage far greater numbers of laity and especially women in the Vatican and throughout our church. This reform will signal the Pope's commitment to the Catholic Church modeling equality and justice in the world.
###
We Are Church International (IMWAC) founded in Rome in 1996, is a global coalition of national church reform groups. It is committed to the renewal of the Roman Catholic Church based on the Second Vatican Council (1962-1965) and the theological spirit developed from it.
Contact: Marianne Duddy-Burke, This email address is being protected from spambots. You need JavaScript enabled to view it., +1 617 669 7810
[We thank This email address is being protected from spambots. You need JavaScript enabled to view it.for the cartoon]