An hour before the start there was standing room only! 1,000 arrived to celebrate Fr Tony Flannery's 70th birthday and his over 40 years of service to our church. Fr Willie Cummins from Ennistymon joined Fr Tony on the altar. A choir assembled specially for this occasion sang out loud to the heavens. Noírín Ní Riain enchanted us with her singing and especially her song for Tony!
The mass started spot on 2.30pm. Tony gave General Absolution to all assembled (a big screen outside had as many watching as were packed inside Killimordaly Community Centre). In his homily Tony said nit was time for believing communities to recover the Eucharist for themselves. Everyone was invited to receive communion as a statement of love for all.
In the leaflet welcoming all Tony set out the main issues between him and the Vatican:
* Priesthood: The first thing the Congregation for the Doctrine of the Faith (CDF) in the Vatican objected to was an article which I wrote in the height of the clerical sex abuse crisis here in Ireland. I said in that article that I believed the priesthood as we have it now is not as Christ would want it. In the context in which I was writing, that seemed an obvious statement to make. But, taken out of context, and sitting in a desk in the CDF, they considered it heresy.
* Catholic Teaching on Relationships and sexuality: The CDF objected to some things I had written about issues around artificial contraception, and the teaching on homosexuality. I had said, and written, many times over the years that I regarded the document issued by Pope Paul Vl forbidding all forms of artificial contraception under pain of serious sin to be wrong. The CDF demanded that I state publicly that I fully accepted that teaching. Equally I had difficulty with teaching that described people of a homosexual orientation as in a 'disordered state', and that all homosexual acts were 'intrinsically evil'. Again they demanded that I state publicly that I accepted their views on all this. I could not do that.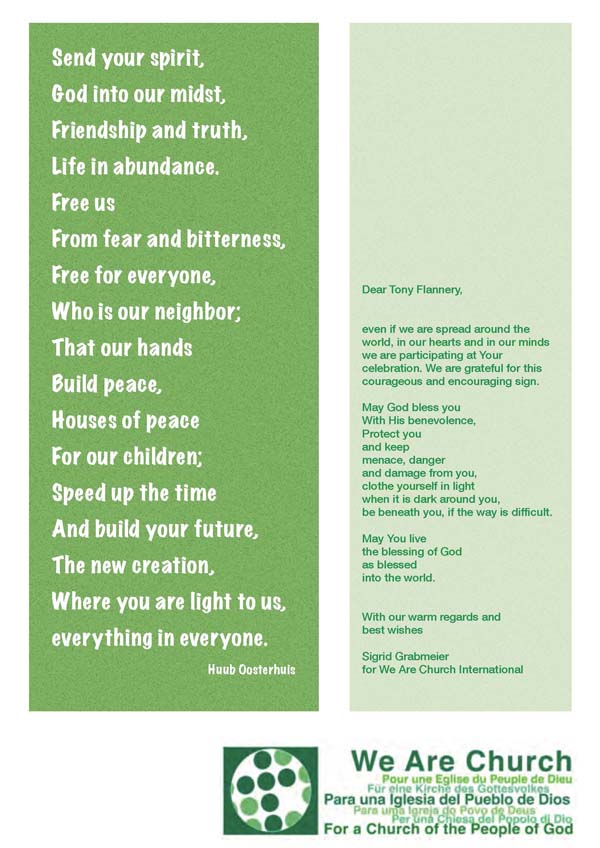 by Sigrid Grabmeier, Chair of We Are Church Intl.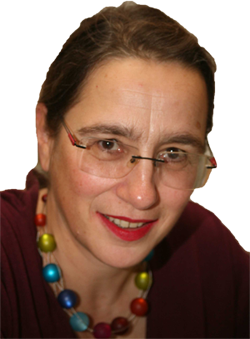 This statement, according to Vatican Radio on 13 December 2016, comes from the Pope's speech at the Eucharistic celebration of the same day, a few days after the publication of the new guidelines for the education of priests "The gift of vocation" by the Congregation of the Clergy, signed by Francis himself . - His concern that the "shepherds" should be closer to the people, not think of themselves as something better and not to rise above the "sinners and prostitutes" is not new. But in the new guidelines, I find this concern only very poorly implemented, if not even counter-productive.
The celibate priesthood continues to be exaggerated, even the clear rejection of homosexual priesthood candidates or even of women in priestly ministry. Behind them, there is still an official understanding, a picture of priesthood and a doctrine that in a certain way cause clericalism: the theology of sacrifice and the idea that the priest simultaneously acts as the representative of Christ and the Church, always challenged "to configure oneself to Christ by exercising pastoral ministry. ".- The" configuration to Christ ", an expression often found in the document, is a requirement which nearly invites to clericalism. For even if it is repeatedly asserted how important it is for the young men to exercise themselves in humility, chastity, modesty, and obedience, they are to be formed quite differently from all others. Many passages give me the impression of guidelines for the manipulation of boys and young men who are indoctrinated as early as possible on what is so particular about their vocation.
There are certainly also positive aspects in the document, e.g. protection of minors, which will be a topic in priest education in the future. Above all, however, there is a great deal of fear of the loss of meaning of the clergy, a nimbus which is bound to a clericalization by means of a spiritualization which is already tending to kitsch and pious elegies. Actually exactly the opposite of what Francis wants to achieve. - But maybe that is the plan: what you can not prevent, you have to run against the wall or into the empty space. - We should not wait for that. "We are Church" and that is to say, search for ways, ways to go from a survived hierarchical to a viable cooperative church.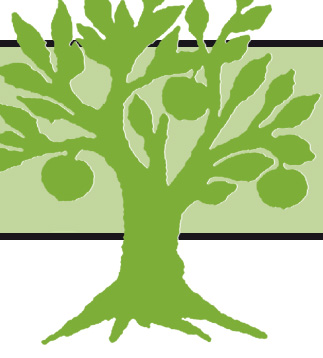 The Apfelbaum Foundation, founded in 1989, works in partnership with others for a growing together of worlds
[ German ]
We Are Church has won the Integration Award 2017, from the Aprelbaum Foundation - together with Prof. Günter Hegele of the professional Evangelical academics in Germany.
Founded in 1989, the charitable Apfelbaum Foundation promotes long-term and applied initiatives for community growth and development.
The citation reads:
"The Foundation gives you the Integration Award 2017
for your persistent development and perseverance of the internationally networked Movement We Are Church and
for your empathic and creative proposals for reforms in your own Catholic Church, but also for your 'yes' to the Reformation 500 years ago and to a reconciled Diversity of Christians in an ecumenical spirit. "
We are Church, in receiving this prize, sees itself in very good company. Hans Küng and OikoCredit were first prize winners in 1996. Other laureates and winners include: Eugen Drewermann, Alice Schwarzer, Rupert Neudeck, Monika Hauser, Richard Schröder, Karl-Josef Kuschel, Tilman Zülch and Lamya Kaddor. 
Recipient organisations include, among others, Amnesty International, the Reconciliation Service for Peace, the Terre des Femmes, the MSF, the OSCE, the Nes Ammim in Israel.
We have received regular support from the Apfelbaum Foundation from their priority fund "convergence of religions", and this has been an incentive for us over many years.  Now, at the beginning of this Anniversary Year of The Reformation, The Integration Award 2017 will spur us on to continue our work for a more integrated world.
We Are Church Germany